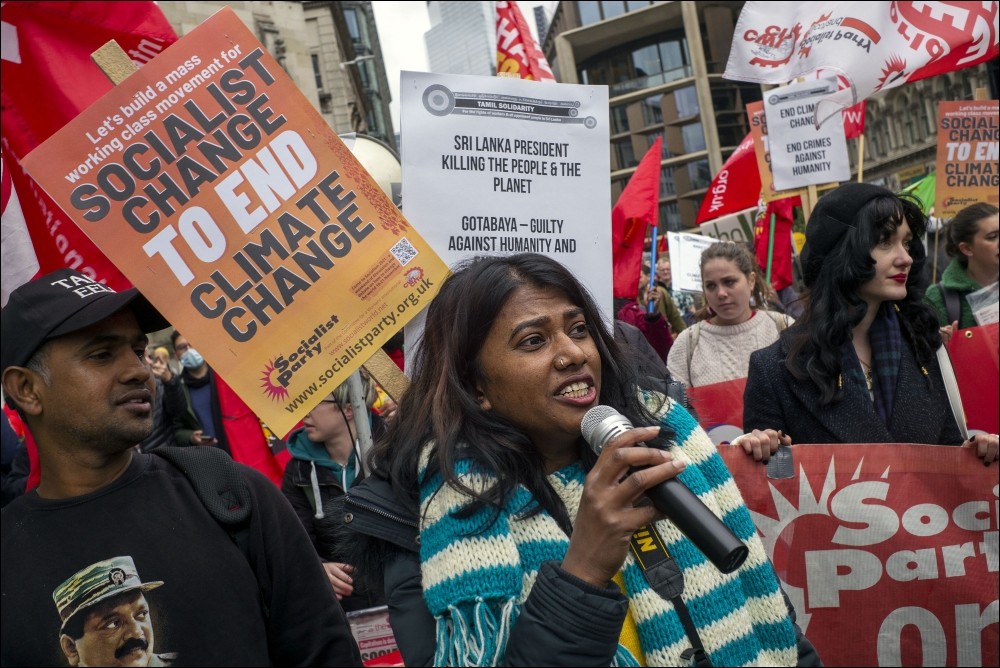 Young people fight for well-paying green jobs and socialist change
Link to this page: https://www.socialistparty.org.uk/issue/1156/33338
From The Socialist, November 17, 2021
After the failure of COP26
Photo: Paul Mattsson (Click to enlarge)
Lluis Bertolin, Socialist Party of South West Birmingham
An agreement was reached by the world's capitalist leaders at COP26. An agreement that does not take the necessary measures to halt catastrophic climate change.
Based on the actual policies and measures of nations, and not on their "goals", global warming is expected to reach 2.7 ° C. At the start of the summit, world leaders said they hoped to agree to limit the warming effect of capitalism to 1.5 ° C. The consequences, without radical change, will be disastrous for millions of workers and the poor.
After all the empty words and promises in Glasgow, world leaders are returning to their countries to kiss the hands of polluting businesses and societies. The promise of a comfortable position on the company's board, or a few generously rewarded speaking expenses when they retire, often does the trick to make them forget what they said when they retire. these COP meetings. These are the same companies that use all the tricks in their playbook to exploit their employees.
Meanwhile, the future of young people is threatened by brutal climate changes, precarious employment, low wages and unaffordable housing. Youth Fight for Jobs supports the creation of well-paid and socially useful jobs; it means stable jobs in green industries.
And yet the leadership of this government is the opposite of that. They have spent billions on leave to pay employers' payrolls and impose a 20% cut on workers. The Kickstart program is similar, 25 hours per week at minimum wage, paid by the government, jobless at the end. Meanwhile, there is a shortage of green skills – training for green jobs is simply not available.
Green jobs
Instead of putting public money to finance underpaid exploited jobs and apprenticeships, the government could finance the training of young people in green initiatives such as the creation of new forests, the reform of our heating and heating infrastructure. 'energy, the renovation and expansion of public transport or the manufacture of spare parts for electric cars.
We simply cannot trust a system that demands profit above all else. Capitalism is unable, and the bosses do not want, to take effective action to stop climate change. No sweet words at COP26 will change the nature of capitalism, even when it threatens to make the Earth unlivable.
To secure a future, it is necessary to place production and distribution under democratic public control, removing the wealth from the 1% who profited from the theft of our future and condemn us to misery. So the Earth's resources can be used not for the profit of a select minority, but for the good of mankind. There is no capitalism without climate change. Young people must unite and fight for our future, joining the fight for socialism.
---
Financial appeal
The coronavirus crisis has exposed the class character of society in many ways. This clearly shows to many that it is the working class that makes society run, not the CEOs of big companies.
The results of austerity have been shown graphically as utilities struggle to cope with the crisis.
The material of the Socialist Party is more vital than ever, so we can continue to bring back workers who are fighting for better health and safety measures, against layoffs, for adequate workforce etc.
We must be prepared for the stormy events to come and the need to arm the labor movements with a socialist program – one that puts the health and needs of mankind before the profits of the few.
Inevitably, during the crisis, we were not able to sell the socialist and raise funds as we normally would.
We therefore urge all our viewers to donate to our Fight Fund.
---
In Le Socialiste for November 17, 2021:
---
NHS

Cuts bring NHS to brink

NHS workers must act now to save our NHS

Barts health workers contracted out in strike vote for pay rise

Health and care worker shortage exacerbated by threat of layoff of conservative vaccine

Financing the struggle for socialism
---
News

London MPs second home scam as workers and students fight

Conservative sleaze scandal continues, replies ex-workers' MP

University bosses' wages pile up as workers forced to strike
---
COP26

Young people fight for well-paying green jobs and socialist change

Sunak's climate finance program illustrates capitalism's failure at COP26
---
China

China: bureaucracy grappling with new crises
---
International

Ten years later, where has the radicalism of Podemos gone?

Belarusian refugees caught between a rock and a hard place
---
Workplace News

S Wales Stagecoach bus drivers earn £ 10.50 an hour

DVLA voter turnout below threshold

Striking Scunthorpe steel scaffolding raises the bar

Leeds taxi drivers protest the relocation of the taxi stand

New strikes on East Midlands Railway

A call to trade unionists to present themselves as anti-cuts candidates

Clarks workers fight 'fired and rehired' pay cut

London couriers take action

Sainte Mongouste report does not deal with harassment and victimization of workers
---
Campaigns

Resisting evictions in east London

Solidarity demonstration in Leeds says to stop coup in Sudan

Why did I join the Socialist Party

Why am I coming to Socialisme 2021?

Birmingham People's Budget
---
Readers' reviews

Readers' reviews
---
Homepage
|
Le Socialiste November 17, 2021 |
Join the Socialist Party
Subscribe
| Make a donation
| audio | PDF | Ebook
---