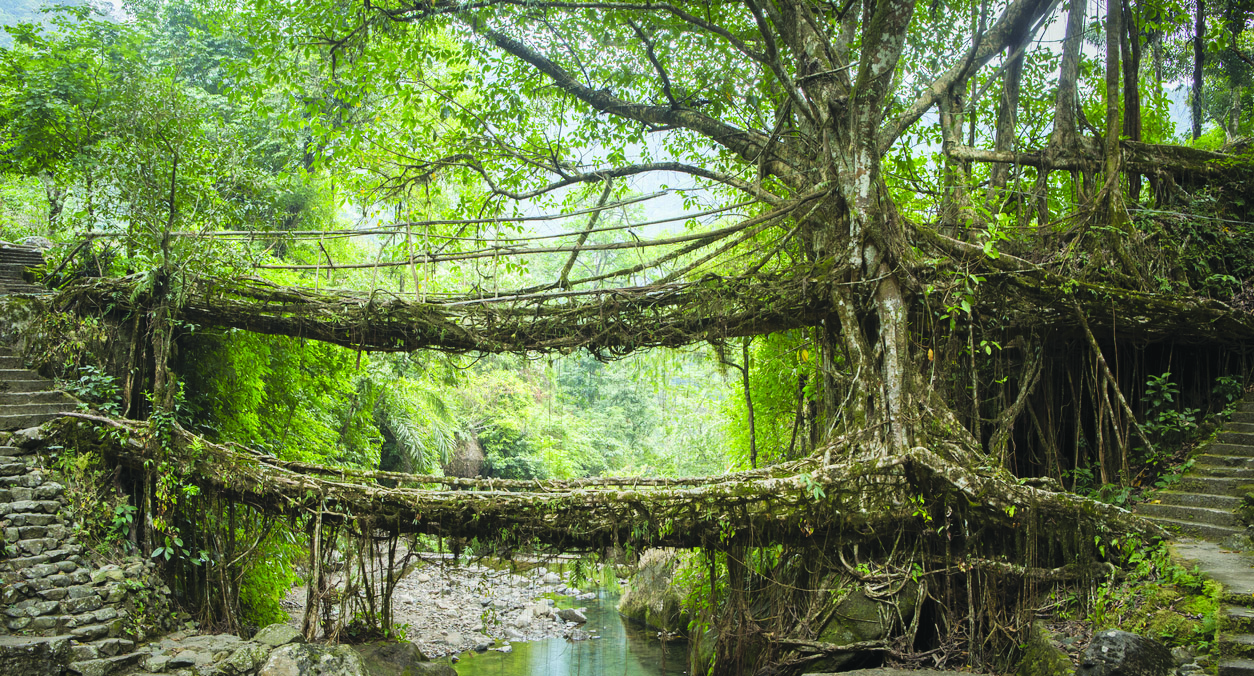 Wildlife diversity, essential health maps for UNESCO tag: ZSI
SHILLONG, Jan 21: The Zoological Survey of India or ZSI has been emphasizing documentation of wildlife diversity and preparation of health maps for living root bridges (Jingkieng Jri) of Meghalaya to enable them to be eligible for the UNESCO World Heritage Site label.
The director of ZSI, Dr. Dhriti Banerjee, emphasized these two aspects to meet criteria IX and X of the UNESCO World Heritage criteria.
Criterion IX states that sites should be outstanding examples representing significant ongoing ecological and biological processes in the evolution and development of terrestrial, freshwater, coastal and marine ecosystems and plant and animal communities.
Criterion X states that sites should contain the most important and significant natural habitats for the in situ conservation of biological diversity, including those containing threatened species of outstanding universal value from the point of view of science or preservation.
Meghalaya's living root bridges highlight the socio-cultural connections between people and nature. In December, the government of Meghalaya organized a preparatory field visit by ZSI scientists to assess the community and scientific conservation, research and development of Jingkieng Jri.
At this convention, the Chief Minister, Conrad K Sangma had applied for the UNESCO World Heritage label for the living root bridges which support a plethora of flora and fauna including birds, animals, lichens, mushrooms, flowers and trees, in addition to serving their main purpose of allowing the population to cross them to live.
"We have done a lot of work on natural resource management where we focus on creating livelihoods from the natural resources we have. So we are using them sustainably and yet creating a parallel economy with more inclusive livelihoods, while keeping ecology at the forefront," the CM had said.
The process of making these bridges is an age-old craft, a living tradition among locals. It is crucial to archive this wisdom not only to make, but more so, to conserve the bridges and the related ecosystem, he said.
Chief Scientific Adviser to the Government of India, Prof K Vijay Raghavan, said Living Root Bridges, which highlight the socio-cultural, social and botanical connections between people and nature, deserve the tag of World Heritage Site because of the rich micro as well as macro globe associated with Jingkieng Jri.
A ZSI team visited East Khasi Hills between December 14 and 20 to assess the diversity of fauna in the Jingkieng Jri sites. Dr Banerjee planned the survey while North East Regional Center scientist ZSI Dr Bikramjit Sinha served as field coordinator.
The team further included Desert Regional Center Scientist Dr. Rifat Raina, Andaman and Nicobar Regional Center Scientist, Dr. Anil Kumar Dubey, Scientist, Headquarters, Kolkata, Dr. Devi Shankar Suman, Scientist, Headquarters, Kolkata , Dr Manpreet Singh Pandhar, Scientist, High Altitude Regional Centre, Solan Dr T Kubendran, Scientist, Gangetic Plains Regional Centre, Patna, Dr Rahul Joshi, Scientist Dr Uttam Saikia and Dr Dhimas from North East Regional Centre, Shillong , the ZSI said in a statement.
The team documented 83 faunal species (six mammals, five aquatic and 72 terrestrial) from the 11 living root bridge sites at Wah Sohot, Umlyngoh, Kutsiej, Iap Paka, Tyrpa Mawloh, Jri Lyntang, Mawsiang Oyrdi, Wah Mynrieng Rit, Wah Salang, Wah Rithang and Nohwet.
All six mammal species were reported during the survey for the first time from two bridges. A fruit bat Macroglossus sobrinus K Andersen was found with seeds in the spit and appeared to be a potential seed disperser, which required further investigation, the ZSI said.
The team assessed the diversity of entomofauna which included two aquatic species and six terrestrial species within 200 meters of the living root bridges assessed.
Ades albopictus, a vector of viral diseases, was identified and stone holes in the waterways contained mosquito larvae. Among the pollinators, a bumblebee, Bombus Haemorrhoidalis Smith and five Aphis bees were observed near the Ficus. Sap-sucking insects included two Ficus feeding on living root bridge whiteflies and a Phyrochoridae.
The Living Root Bridge site in Nohwet, which is a popular tourist destination, was observed with a higher diversity of butterflies, dragonflies and aquatic insects than the other sites.
No Isoptera (termite) infestation was observed in any of the root bridges. Cobwebs were visible on the tree trunks. The survey revealed the presence of five species (35 specimens) of ephemeroptera belonging to three genera divided into three families.
"The Meghalaya Living Root Bridges Expedition explored the faunal diversity to provide supporting data towards the recognition of these bridges as a UNESCO World Heritage Site by strengthening the proposal with biodiversity inputs and ecosystem services from these biological bridges," the ZSI statement said.