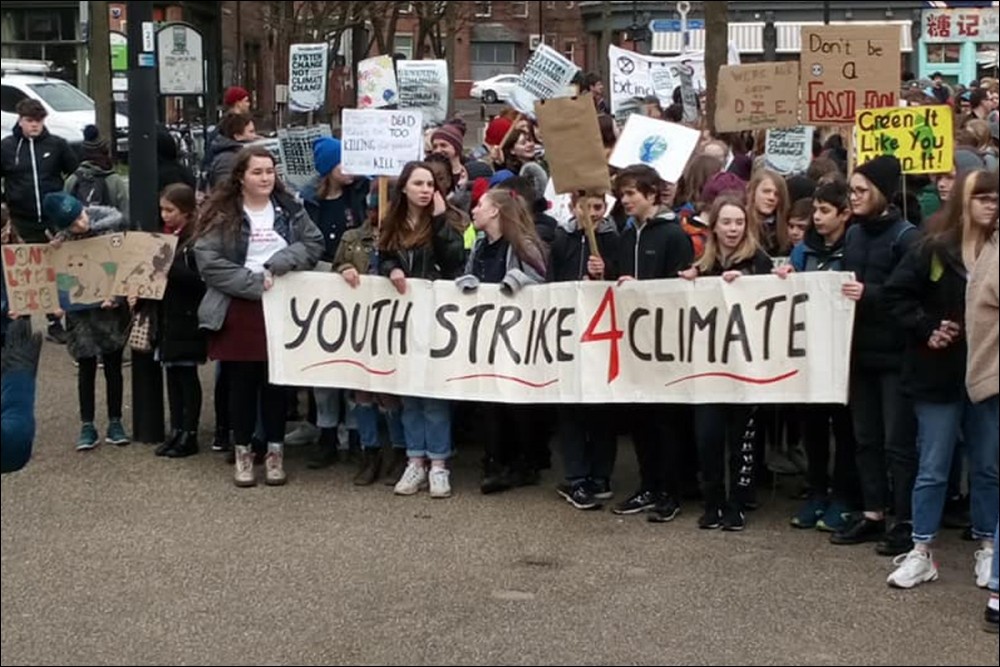 Who is paying for the climate crisis?
Link to this page: https://www.socialistparty.org.uk/issue/1148/33051
Excerpt from The Socialist newspaper, September 22, 2021
Climate strikers in Sheffield, 14.2.20, photo Sheffield Socialist Party (Click to enlarge)
Sam Morden, Socialist Party of South Tyne and Wear
It is the working class and poor of the world who will suffer the most from climate change. Only 100 companies are responsible for 71% of global emissions. But in executing their "plan" to deal with the climate emergency, the bosses want to make workers pay – with price hikes, taxes and our health.
In March, after just six months, the government's £1.5billion 'green homes grant' was scrapped. The program was designed in part to replace natural gas boilers with low-emission heat pumps. Domestic heating accounts for a significant share of national CO2 emissions. So much for "building back greener"!
Other suggested measures include replacing all or part of natural gas with hydrogen. But government forecasts suggest hydrogen could be up to five times more expensive than natural gas by 2040.
With the government's market-driven approach, the financial burden falls on owners, many of whom have been hit hard by austerity and Covid, to ensure that a private company installs green technology. Already cash-strapped landlords, housing associations and councils are likely to avoid improvements or pass the costs on to tenants.
Green power, including wind and solar, is becoming cheaper as technology develops – but the intermittent nature of power generation means a complete overhaul of the national grid is needed, including the storage. The privatized, for-profit-run national grid will likely continue to raise prices to help fund this, with the costs ultimately being passed on to customers by utility companies.
In August, it was announced that eleven million households would face a price hike on their energy bills. Under pressure from profiteering energy suppliers, government regulator Ofgem agreed to raise the price cap.
National Grid, along with privatized energy companies, should become democratic public ownership; thus, energy prices can be set at an affordable and democratically decided level. The investments necessary for the transformation of energy production can be planned, unpolluted by the pursuit of profit.
This must be broadened with a socialist program, so that the global working class can democratically plan a path through the next century, using the wealth of capitalists and control of the economy, to divert money to where it is most needed. no longer necessary to save our planet.
Financial appeal
The coronavirus crisis has laid bare the class character of society in many ways. It is clear to many that it is the working class that makes society work, not the CEOs of big business.
The results of austerity have been clearly demonstrated as public services struggle to cope with the crisis.
Socialist Party hardware is more vital than ever, so we can continue to flag workers fighting for better health and safety measures, against layoffs, for adequate staffing, and more.
We must be prepared for the stormy events ahead and the need to arm labor movements with a socialist program – a program that puts the health and needs of humanity ahead of the profits of the few.
Inevitably, during the crisis, we were unable to sell the socialist and raise funds as we normally would.
We therefore urgently call on all our viewers to donate to our Fight Fund.
---
In The Socialist of September 22, 2021:
---
what we think

Labor policy will not come from Labor
---
News

The working class under attack

NHS workers reject insult at 3%

Energy market chaos argues for nationalization

Conservative cuts to Universal Credit: We need a union fightback

Interview: the bakers' union will vote on disaffiliation from Labor

Tax evasion could amount to more than £20billion a year

Life expectancy falls – a condemnation of capitalism
---
Characteristic

Socialists and the four-day week
---
To occupy

10 years since Occupy
---
Workplace News

Ending the teacher workload crisis

MOJ compensation agreement accepted – we demand 10%

Workers at 13 colleges to strike over wages

New strike dates in EMR guard dispute

Stop the press: the sparks come out

Oaks Park strikers demand 11 more days of action
---
International

German general election
---
Campaigns

Unemployment, low wages, exorbitant university fees, climate change… Join the fight for socialism

Yorkshire Youth Fight for Jobs revived

W Sussex's 'Disability Tax' – protest not going away

Fighting evictions in Cornwall

Leeds taxi drivers and disabled passengers unite to fight station changes

Socialist students: young people lit up when they saw us

York: Demonstration for non-binary and trans rights
---
Readers' opinions

TV Review – Help: Heartbreaking portrayal of the Covid nursing home crisis

Gleision Mine Deaths: Still Fighting for Justice

Corbyn had a social protection plan

Who is paying for the climate crisis?

Famine in Madagascar
---
Homepage
|
The Socialist September 22, 2021 |
Join the Socialist Party
Subscribe
| Make a donation
| audio | PDF | Ebook
---