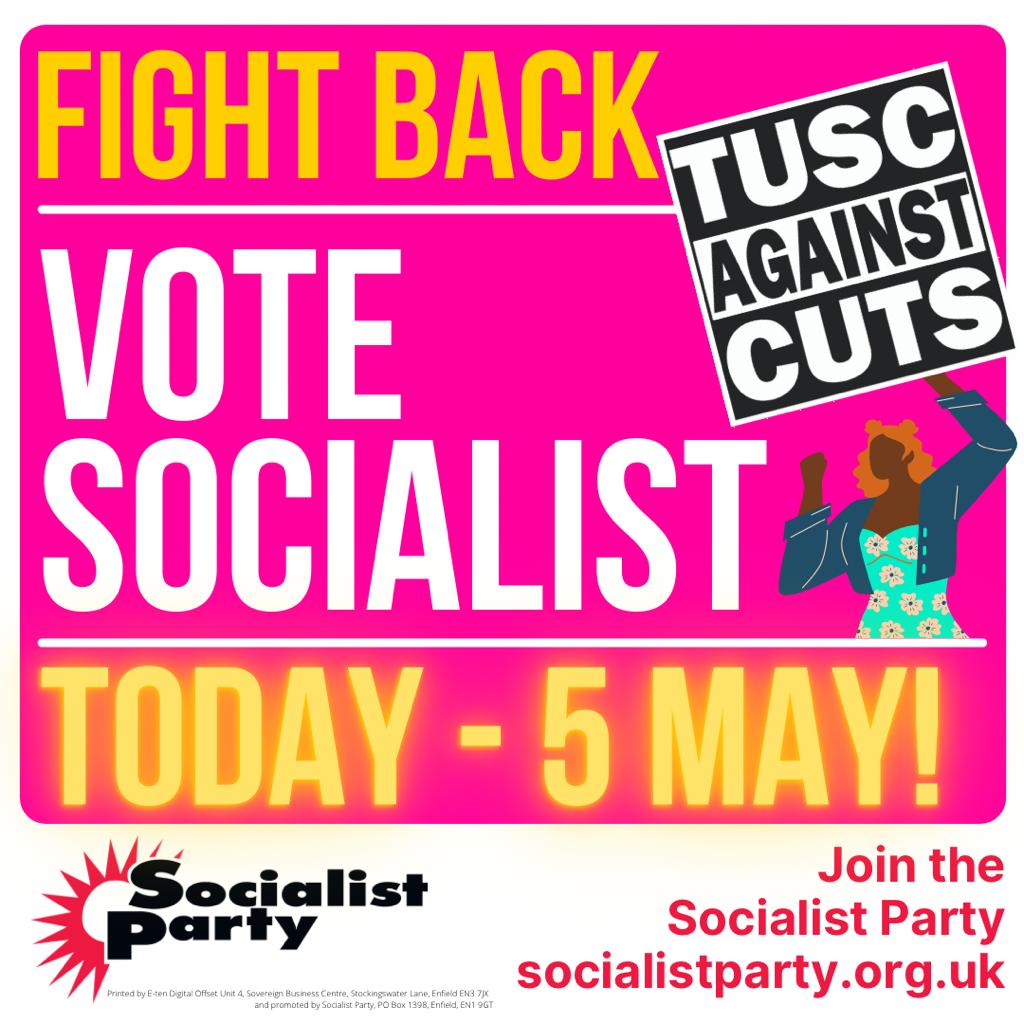 Vote socialist today! – Socialist Party
Vote Labor and Socialist Coalition (TUSC)

Find your local candidate here:
https://m.tusc.org.uk/txt/469.pdf
We need socialist advisers who can give workers a voice against austerity, greedy landlords, privatization and the closing of public services.
The gap between the rich and the rest of us has never been wider, but the difference between the major parties has never been narrower.
Labor councilors are choosing to implement the cuts demanded by the Conservative government rather than choosing to stand up for workers and establish "no cuts" needs budgets.
Unlike the Conservative Labor advisers, the Socialist advisers would resist Conservative austerity instead of passing on savage cuts. The Socialist Party is fighting with workers, trade unionists and communities for budgets without popular cuts and building a mass labor movement that could end conservative austerity and win the funding our communities need.
Working class people need a new mass workers party that stands up for us. And a new way of running the economy – a socialist way – to benefit the majority, not just the billionaires.
The Socialist Party is part of the Trade Union and Socialist Coalition (TUSC), created to enable trade unionists, community activists and socialists to unite against pro-austerity establishment parties. It's a start – a step towards the kind of party we need that can offer a socialist alternative to austerity.
Join us!
Click here to read more
We say:
• Boards must set budgets without cuts, based on the needs of the 99% and not the 1%
• No more compression of the cost of living!
• Renationalize energy companies and other privatized public services
• Restore services for young people, reopen libraries, reverse cuts to social care and rehire laid-off city workers
• For a decent future for young people – free education and training and decent, well-paid jobs for all
• Restore domestic violence services and public lighting
• For a program of mass social housing construction – reject increases in housing tax and rents
• Fully fund the NHS – stop privatization and give staff a 15% pay rise
• Fight against climate change, including with a free, extended and renationalised public transport system.
• End low wages. Wage increases for all of this at least keep pace with inflation. A minimum wage of £15 an hour now
• Remove the wealth from the 1%. We need socialist change!
Rejoin:
Become a member of the Socialist Party and fight to change the world

Subscribe:
Get the Socialist Newspaper and Socialism Today delivered to your door or device

Make a donation:
Help fund the fight for socialism