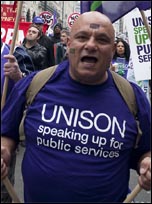 Unison Service Group Executive Elections
Action is needed to fight the cost of living crisis!
Unison must take the lead – launch an inter-union campaign for higher wages and to stop cuts and privatization
Members of the Socialist Party in Unison
Bills are exploding, housing tax and social security are increasing, and yet the rich are getting richer! After ten years of austerity, with former Unison leaders failing to defend jobs, wages and services, in last year's National Executive Elections (NEC), members voted for the change. The new left-wing leadership must urgently prepare to mobilize members to tackle the cost of living crisis and come up with a serious strategy to fight for the NHS and city services – including backing 'no cuts' councilors.
local government
Unison members rightly fear a continued threat to jobs and wages, as well as the services provided, despite having given so much during the pandemic. This is why it is essential to organize to defend any attack on members' jobs, wages and conditions.
Unison must demand that Labor authorities refuse to implement more cuts and instead set budgets to meet the needs of the people they are elected to serve. Council reserves have grown incredibly from £19 billion in 2019 to £29 billion in 2021! Councils can therefore permanently refuse to implement the planned deficit of £ 3 billion.
And if Labor Councils don't stand up for us, members will rightly ask why are we handing them £3m a year of members' money? We need councilors willing to fight the Tories, not act like them, and if they don't fight, the union should change its rules to allow us to back the anti-cuts candidates who will.
Health
Covid has exposed the NHS crisis that has been present since austerity began in 2010.
On wages, with inflation heading into double digits, the Tories' paltry 3% NHS wage offer for 2021 and 2022 is a massive wage cut after a decade of wage moderation. Members of healthcare unions, including Unison, voted to reject last year's wage award and were ready to act. Unison members voted 77% in favor of sustained industrial action and the union must now move to a formal industrial action ballot if there is no meaningful pay rise for the whole NHS staff.
The union must also fight privatization and Tory attacks on the NHS. We need a fully funded and democratically run NHS and healthcare system!
Vote for:
Sanitary seats
Adrian O'Malley (Yorkshire)
John Malcolm (Northern Region)
Brian Loader (East Midlands)
Local government seats
Steve Bell (South East Health), Mark Evans (Wales Local Government) and Helen Couchman (South East Community) were all elected unopposed