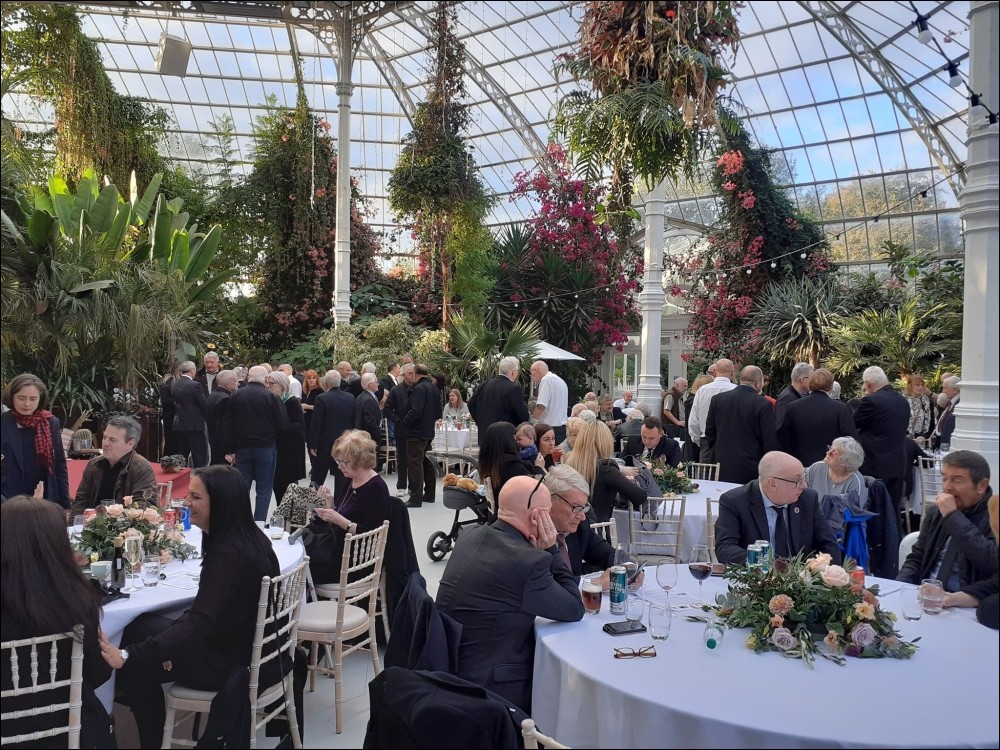 Union movement service packed a fitting farewell to Tony Mulhearn
[ad_1]
Link to this page: https://www.socialistparty.org.uk/issue/1061/29759
From The Socialist, October 23, 2019
Funeral of Tony Mulhearn on October 21, 2019 (Click to enlarge)
Theo Sharieff, youth and student organizer of the Socialist Party
Hundreds of people filled the pews and aisles of the Unitarian Church in Sefton Park in Liverpool on October 21 to pay homage to Tony Mulhearn.
For five decades Tony was a longtime supporter of the Militant and member of the Socialist Party, and a leading figure in the 1983-87 Socialist City Council that defeated Thatcher.
Tony was a giant of the workers' movement in Liverpool and Britain. Glancing around the service it looked like a mass meeting of the labor movement – there were banners from unions including PCS and Unison, local union councils, the Socialist Party and others.
Over 700 people came from all over Liverpool and the country – as many as they attended the meetings of the Liverpool District Labor Party delegates when Tony was its chairman!
Touching speeches were made by Tony's children throughout the day, as well as by Derek Hatton, who was a militant supporter and deputy head of this Liverpool labor council.
Speeches by members of the Socialist Party, as well as the delicate account of Tony's qualities as a loving friend and father, served as a reminder of Tony's unwavering commitment to the cause of the struggle for a socialist world.
Peter Taaffe, General Secretary of the Socialist Party, delivered the eulogy at the request of Tony's family. He spoke not only of Tony's heroic role in Liverpool's fight against Thatcher, but also of his tenacity to fight for key ideas of the militant and the Socialist Party until the very end of his life, which made him has earned as many enemies as it has friends along the way. .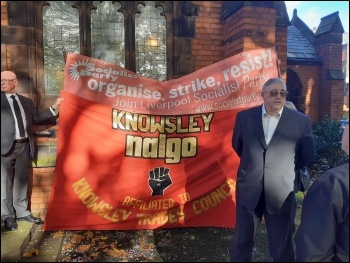 Funeral of Tony Mulhearn on October 21, 2019 (Click to enlarge)
Dave Walsh, a member of the Liverpool Socialist Party, explained what Tony's struggle meant to a working-class boy like himself who grew up in Liverpool in the 1980s.
The entire establishment, including the capitalist press and the right wing of the Labor Party, despised Tony for the stance he and others took against Thatcher's austerity program. But Thatcher's defeat by Tony and the activist meant Dave had an apprenticeship and a decent future growing up in Liverpool.
Tony was a Marxist and a true working class intellectual who helped translate socialism into the language of jobs, housing and services for thousands of poor and working people in Liverpool.
The speeches recalled the inspiration Tony is, and will continue to be, for the working class and young people of Liverpool and beyond. They illustrated why so many people beyond Tony's family and close friends had come to say goodbye to him.
Saying goodbye to Tony was heartbreaking for his family and for all who were lucky enough to have met him. But it was hard not to feel inspired after listening to what Tony had done with his life.
His story, and the history of the Militant in Liverpool, will undoubtedly inspire a new generation of class fighters who will stand in this tradition, fighting with determination and patience for a socialist future, free from capitalism, poverty and poverty. 'injustice.
Financial appeal
The coronavirus crisis has exposed the class character of society in many ways. This clearly shows to many that it is the working class that makes society run, not the CEOs of big companies.
The results of austerity have been shown graphically as utilities struggle to cope with the crisis.
The material of the Socialist Party is more vital than ever, so we can continue to report workers fighting for better health and safety measures, against layoffs, for adequate staffing levels etc.
We must be prepared for the stormy events to come and the need to arm the labor movements with a socialist program – a program that puts the health and needs of mankind before the profits of the few.
Inevitably, during the crisis, we were not able to sell the socialist and raise funds as we normally would.
We therefore urge all our viewers to donate to our Fight Fund.
---
In The Socialist of October 23, 2019:
---
What we think

General elections are the real "people's vote"

CWU strike vote will build confidence to fight back
---
New

Get rid of Boris and his bosses deal. General election now!

"I have to get to work! I have to feed my children! "

Rail report on the death of a member of the Cardiff Socialist Party

Eliminate Racism From Football – Take Back The Game!

Enfield North Labor Party: Defending local democracy
---

Minimum wage: what should be demanded?
---
Workplace News

Uniting workers and the public to fight cuts: interview with Jared Wood – RMT union executive candidate

Marion Lloyd for the general secretary of the PCS union

Asda contracts: vital that GMB mobilizes for industrial action

NEU members strike against cuts to funding for the sixth

Bradford: workers abandon council cuts

Work news in brief
---
chinese revolution

China at a crossroads: 70 years since the declaration of the People's Republic of China
---
International Socialist News and Analysis

Catalonia: draconian prison sentences for independence leaders cause mass protests and strikes

Chile: a surge of rage against the capitalist system

Solidarity with the Kurdish people

Massive protests against Lebanon's corrupt elite
---
Socialist Party reports and campaigns

Join the party that dares to fight for socialism

Union movement service packed a fitting farewell to Tony Mulhearn

Socialism 2019: Join us for a festival of ideas

Day of sale of picket builders of residents of Barking burned down

What way forward for workers and youth in Nigeria?

Posties speak at a public meeting of the Socialist Party in Basingstoke

Socialists garner support at Newton Abbot's first meeting
---
Letters

The Socialist Inbox
---
Home
|
The Socialist October 23, 2019 |
Join the Socialist Party
Subscribe
| Make a donation
| audio | PDF | Ebook
---
[ad_2]