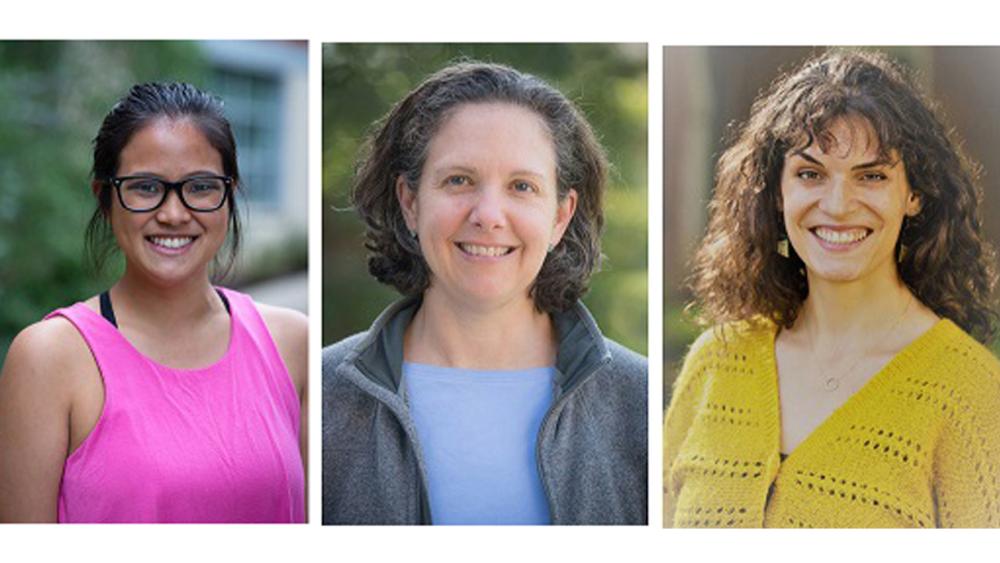 Three honored for their commitment to diversity at the College of Ag Sciences
UNIVERSITY PARK, Pennsylvania – Three people are the 2022 recipients Dr. William Henson Excellence Award for Diversity from Penn State College of Agricultural Scienceswhich recognizes distinctive and outstanding teaching, research, outreach or creative work that advances diversity within the college.
This year's recipients are Marjorie "Maisie" Macknight, doctoral candidate in the Department of Ecosystem Science and Management; Allyson Muth, Assistant Research Professor of Private Forest Management and Director of the James C. Finley Center for Private Forests; and Justine Lindemann, Assistant Professor of Community Development and Resilience.
"I am delighted to congratulate such deserving recipients," said Patreese Ingram, associate dean for multicultural affairs and chair of the college's Diversity Coordinating Council, which sponsors the award. "Their efforts are impacting our college and beyond, and we commend them for their commitment to fostering diversity."
Marjorie "Maisie" Macknight
Macknight is a leading advocate for improving diversity within the college. She has served on diversity, equity and inclusion committees for the Department of Ecosystem Science and Management and for the Interuniversity Graduate Diploma in Ecology program since 2020.
She is currently a graduate assistant on the department's graduate diversity, equity and inclusion committee and served as its chair.
Macknight was also a recipient of the Harrar Fellowship, which offers advanced doctoral students the opportunity to gain teaching experience under the guidance of a professor mentor. She chose to develop a new course on diversity, equality and inclusion for undergraduate students that focuses on the need for social justice to ensure the success of conservation efforts.
As an undergraduate student at the University of Georgia, Macknight championed efforts to write an open letter to faculty at the Warnell School of Forestry and Natural Resources, calling for greater consideration of diversity, equity and inclusion in its program.
Allyson Muth
Muth serves as chair of the Department of Ecosystem Science and Management's Diversity, Equity, and Inclusion Committee and has led its initial efforts to address diversity issues since its inception in 2017.
Through his efforts, college faculty voted to form the Diversity Committee that same year to address and strive to implement diversity, equity, and inclusion efforts in the classroom. From that point on, Muth worked to advance the department's curriculum and create awareness through training and mentorship opportunities.
Her efforts to promote inclusion led to the launch of the Women and their Woods program, in cooperation with the Delaware Highlands Conservancy. The program is one of the first of its kind in the country.
Additionally, Muth is active in the Women's Forest Congress, a forum to develop strategies and solutions for forests that look through a female lens. She also co-developed and taught a course on Equity and Inclusion in the Green Profession during the Spring 2020 semester.
Justine Lindeman
Lindemann has worked tirelessly to advance the conversation about diversity, equity, and inclusion through her intellectual and educational leadership at Penn State.
She is co-developer and co-lead of the Racial Action: Conversations in Extension initiative, a dialogue-based extension program and professional development opportunity for extension educators, affiliate faculty, and administrators. The initiative is centered on the persistence of racism and designed to prepare participants to work in an increasingly diverse and multicultural society in urban and rural spaces.
Additionally, Lindemann has been instrumental in developing the Anti-Racism Faculty Teaching Community, an initiative in which instructors discuss approaches and methods to effectively address diversity and multiculturalism in their teaching.
Lindemann created and leads within Penn State Extension and the college the Urban Resilience Task Force and the Urban Resilience Quarterly Report, aimed at highlighting and advancing outreach work that reflects diversity values , equity, inclusion and democracy, with a particular focus on urban food systems.