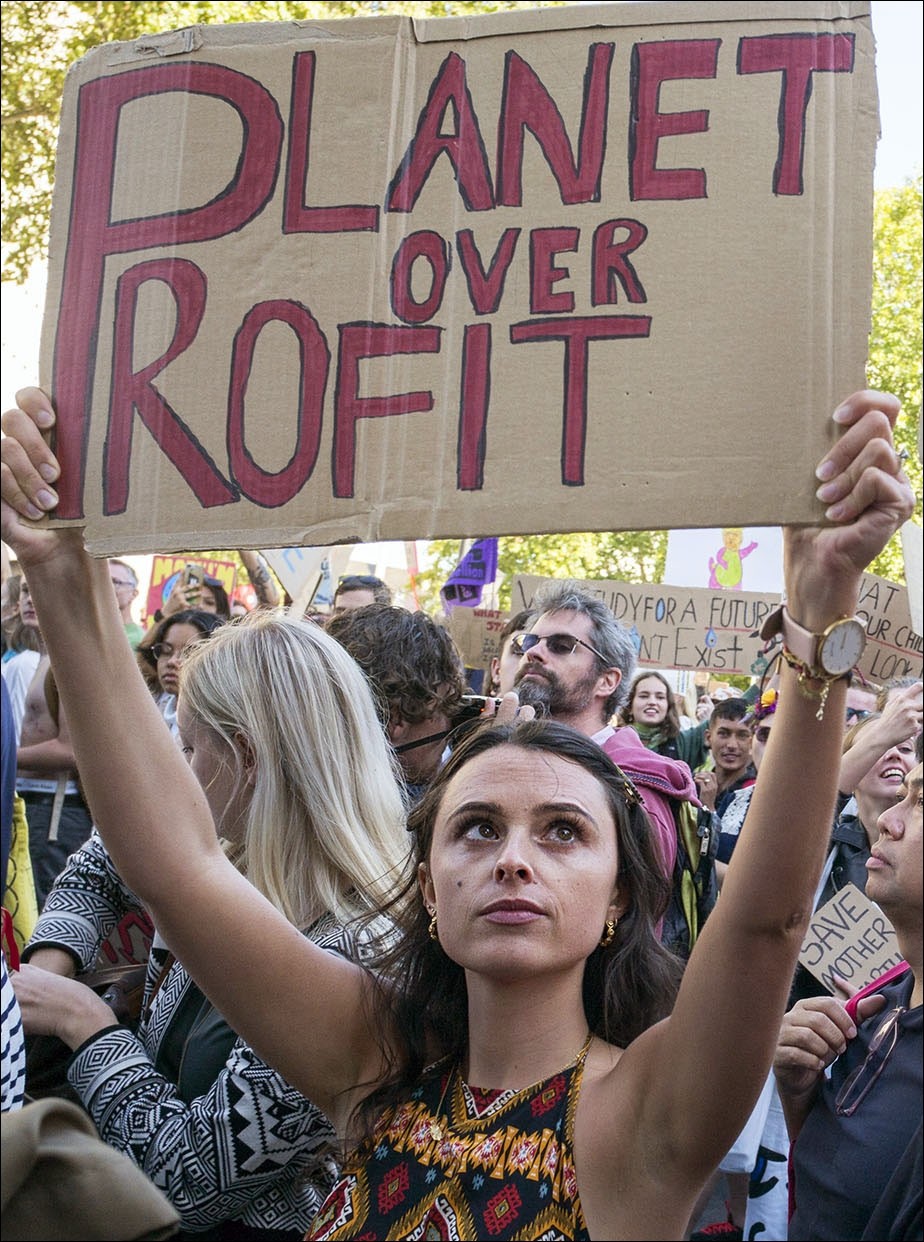 Sunak's climate finance program illustrates capitalism's failure at COP26
Link to this page: https://www.socialistparty.org.uk/issue/1156/33345
From The Socialist, November 17, 2021
Demonstration for action against climate change, photo Paul Mattsson (Click to enlarge)
After banning young climate change activists from attending his speech at COP26, Chancellor Rishi Sunak – the UK's richest MP – continued to make headlines with his speech on a "Financial Alliance for Net Zero ".
This "alliance" aims to ensure that by 2050, 450 companies, representing $ 130 trillion in assets, will be "aligned" with net zero emissions.
By the way, this represents 40% of total global assets, indicating the enormous economic power these giant corporations wield. Indeed, four years ago, it was pointed out that only 100 companies were responsible for 71% of CO2 emissions since 1988.
But only a third of the assets allocated by the alliance will be devoted to low-carbon investments in the next decade. And while that $ 43 trillion is a huge sum, it is estimated that $ 100,000 billion in investment will be needed over the next three decades to achieve the net zero goal.
Also, to highlight the contradiction in this initiative, there is no restriction on those companies investing in new fossil fuel projects.
And we've been here before. In 2009, US President Barack Obama announced that major capitalist countries had pledged $ 100 billion a year to low-income countries in the form of climate change investments. In 2019, the G20 actually provided $ 80 billion. Of that amount, only $ 20 billion has been set aside to help people adapt to the impact of climate change. And only 7% of that money went to the 46 poorest countries.
And to put salt in the wounds, most of that money was in the form of loans that have to be paid back with interest. In other words, the countries most affected by climate change are forced to accumulate more debt to finance the disasters that the advanced capitalist countries have caused!
Meanwhile, since 2015, the G20 countries (comprising the world's largest economies) have spent $ 3.3 trillion to subsidize their fossil fuel industries.
As chancellor, Sunak has been accused of blocking green measures and is said to have opposed his own government's "net zero" program.
In its March budget, Sunak announced a "super deduction" tax relief measure. This was seen as another tax break for fossil fuel companies.
In total, he has allocated £ 145m for environmental measures – barely 0.01% of GDP (total economic output) – while committing £ 40bn for policies that will increase greenhouse gas emissions .
Contrary to the bullshit of the Conservative government's Green Agenda, a future socialist government would recognize that "you can't plan what you don't control, and you can't control what you don't own."
Therefore, it would nationalize the top of the economy – the fossil fuel / energy sector, as well as banks, other large financial institutions, large-scale agribusiness, transportation, etc.
Under public ownership – and tapping into the enormous accumulated resources created by the labor of the working class but currently owned by the capitalist class – a plan for sustainable production would be drawn up and democratically approved. Then we could quickly, without job losses or pay cuts, rightly switch to a green, zero-carbon economy.
Financial appeal
The coronavirus crisis has exposed the class character of society in many ways. This clearly shows to many that it is the working class that makes society run, not the CEOs of big companies.
The results of austerity have been shown graphically as utilities struggle to cope with the crisis.
The material of the Socialist Party is more vital than ever, so we can continue to bring back workers who are fighting for better health and safety measures, against layoffs, for adequate workforce etc.
We must be prepared for the stormy events to come and the need to arm the labor movements with a socialist program – one that puts the health and needs of mankind before the profits of the few.
Inevitably, during the crisis, we were not able to sell the socialist and raise funds as we normally would.
We therefore urge all our viewers to donate to our Fight Fund.
---
In Le Socialiste for November 17, 2021:
---
NHS

Cuts bring NHS to brink

NHS workers must act now to save our NHS

Barts health workers contracted out in strike vote for pay rise

Health and care worker shortage exacerbated by threat of layoff of conservative vaccine

Financing the struggle for socialism
---
News

London MPs second home scam as workers and students fight

Conservative sleaze scandal continues, replies ex-workers' MP

University bosses' wages pile up as workers forced to strike
---
COP26

Young people fight for well-paying green jobs and socialist change

Sunak's climate finance program illustrates capitalism's failure at COP26
---
China

China: bureaucracy grappling with new crises
---
International

Ten years later, where has the radicalism of Podemos gone?

Belarusian refugees caught between a rock and a hard place
---
Workplace News

S Wales Stagecoach bus drivers earn £ 10.50 an hour

DVLA voter turnout below threshold

Striking Scunthorpe steel scaffolding raises the bar

Leeds taxi drivers protest the relocation of the taxi stand

New strikes on East Midlands Railway

A call to trade unionists to present themselves as anti-cuts candidates

Clarks workers fight 'fired and rehired' pay cut

London couriers take action

Sainte Mongouste report does not deal with harassment and victimization of workers
---
Campaigns

Resisting evictions in east London

Solidarity demonstration in Leeds says to stop coup in Sudan

Why did I join the Socialist Party

Why am I coming to Socialisme 2021?

Birmingham People's Budget
---
Readers' reviews

Readers' reviews
---
Homepage
|
Le Socialiste November 17, 2021 |
Join the Socialist Party
Subscribe
| Make a donation
| audio | PDF | Ebook
---