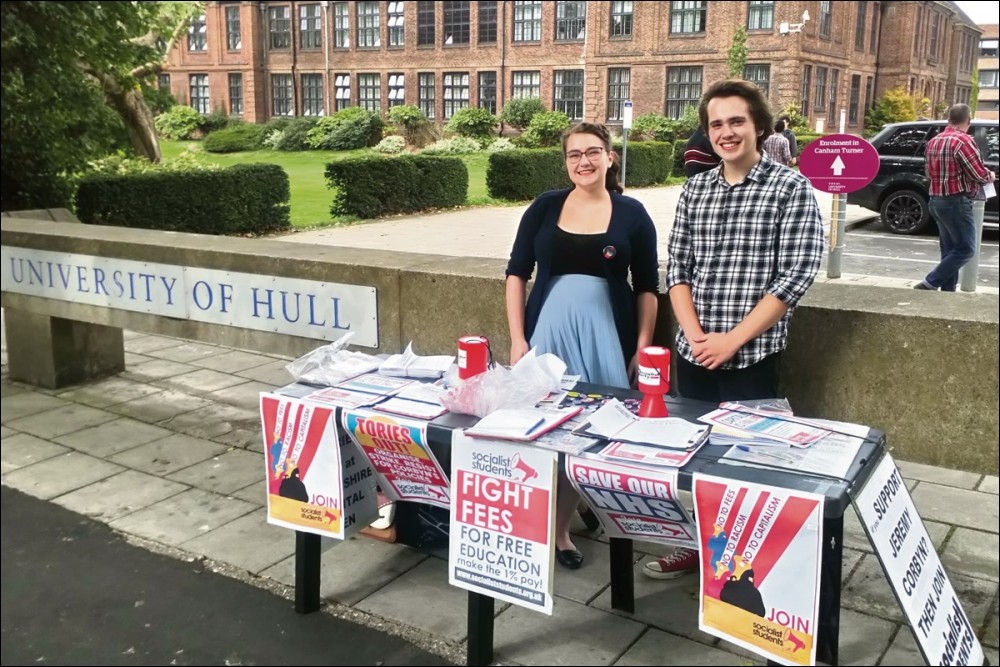 Socialist student campaigns at the Freshers fair in Hull
Link to this page: https://www.socialistparty.org.uk/issue/1010/27963
From The Socialist newspaper, September 19, 2018
Socialist students stall at Hull University freshers fair, 17.9.18, photo by Matt Whale (Click to enlarge)
Socialist students in Hull held a campaign booth on the first day of the University of Hull student fair on September 17, calling for the expulsion of Tories and for socialist policies. 40 students have registered.
When we first met, "what is socialism? 12 people attended with others indicating that they would participate in future activities.
A meeting on Marxist economics was arranged for the following week with plans for campaign activity to follow.
Ten copies of the Socialist Student Magazine "Megaphone" were sold with students delighted to see Socialists campaigning at the University of Hull.
Matt whale
See next week's issue of Socialist for more reports on the freshers fair campaign.
Financial appeal
The coronavirus crisis has exposed the class character of society in many ways. This clearly shows to many that it is the working class that makes society run, not the CEOs of big companies.
The results of austerity have been shown graphically as utilities struggle to cope with the crisis.
The material of the Socialist Party is more vital than ever, so we can continue to report workers fighting for better health and safety measures, against layoffs, for adequate staffing levels etc.
We must be prepared for the stormy events to come and the need to arm the labor movements with a socialist program – a program that puts the health and needs of mankind before the profits of the few.
Inevitably, during the crisis, we were not able to sell the socialist and raise funds as we normally would.
We therefore urge all our viewers to donate to our Fight Fund.
---
In The Socialist of September 19, 2018:
---
Labor Party Conference

The Blairites must go

The struggle to transform work

Momentum's 'transformed world' blocks discussion of Liverpool council fight
---
Socialist Party News and Analysis

Big pharmaceutical companies dodge £ 3bn in taxes

250,000 families in "indecent" housing

Bezos housing hypocrisy

Rail scam reversal

What we saw
---
International Socialist News and Analysis

South Africa: new workers' formations announce response to Ramaphosa's capitalist agenda

Catalonia: 'Diada' 2018 a huge show of force for the republic
---
Socialist students

Mobilize the mass student response

Socialist student campaigns at the Freshers fair in Hull
---
Workplace news and analysis

POA walkout on government failure to secure prisons

RMT strikers ready to raise the stakes on rail safety

University pay slip: vote yes for the strike!

Home helpers protest demonstration in Birmingham

York health workers say no to privatization

Liverpool airport workers demand living wages

Leicester UCU fights against layoffs
---
Socialist Party reports and campaigns

Join our socialist sales campaign for number 1011

March to save threatened Liverpool women's hospital

Socialists and activists protest against cuts to Leicester's NHS

Hundreds of Newcastle United fans attend Mike Ashley Out reunion

Huddersfield Socialist Party opposes racist EDL

Lewisham: fork the rate hike
---
Opinion

How Irish strikers fought apartheid – and the establishment's anti-apartheid leadership

The Socialist Inbox
---
Home
|
The Socialist September 19, 2018 |
Join the Socialist Party
Subscribe
| Make a donation
| audio | PDF | Ebook
---