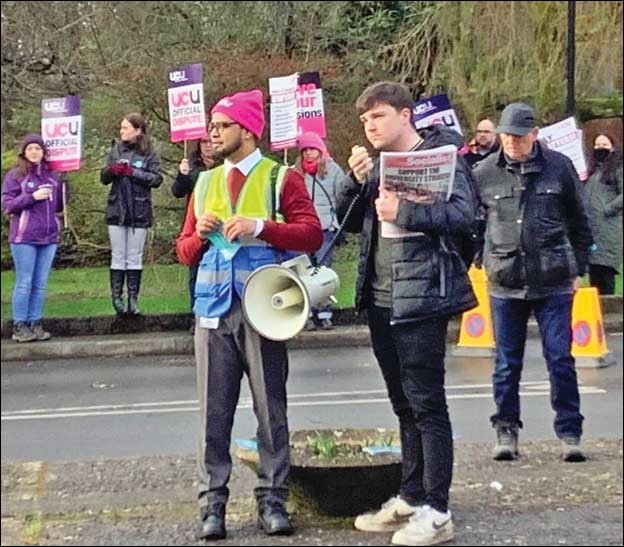 Socialist Party :: Academics strike back
Link to this page: https://www.socialistparty.org.uk/issue/1167/33777
Excerpt from The Socialist newspaper, February 16, 2022
Socialist Party member Oisin Mulholland shows solidarity on the UCU picket line at Swansea University (Click to enlarge)
Beginning of ten days of action in the dispute over pensions and the "four fights"
Workers at 44 universities in the University and College Union (UCU) walked out on February 14 after bosses refused to reverse cuts to the Universities Superannuation Scheme (USS). Proposals from university management organization UUK, which will see a 35% reduction in members' guaranteed retirement income, are due to be made official on February 22.
On February 22, a strike over wages and working conditions will also begin, with 24 other universities joining the action, bringing the total to 68 universities.
This dispute concerns a 20% pay cut in real terms over the past 12 years, unmanageable workloads, unequal pay and the use of abusive and precarious contracts. In total, more than 50,000 employees are on strike. Unison members in ten unis are also taking action on wages and pensions.
Members of the Socialist Party joined the picket lines, including:
Leeds
UCU members were back on the picket lines at the University of Leeds in their long-running dispute over attacks on their pension scheme.
Despite the bad weather, several first-time picketers took part in this first day of a ten-day strike.
Several of the strikers saw the dispute as not just about their pensions, saying that if university bosses got away with attacking them, other employers might see it as a green light to attack their workers' pensions as well.
Iain Dalton, Leeds Socialist Party
Swansea
Swansea Socialist students and Socialist Party members joined the UCU picket line at the Singleton campus, backing university staff against pay and pension cuts. Student Socialists and Socialist Party member Oisin Mulholland told strikers how they can bond with students during the upcoming March 2 student strike.
Swansea Student Socialists
birmingham
The latest round of teachers' strikes to defend pensions has begun and socialist students were in Birmingham to show their solidarity.
Scandalously, the university is now threatening to cut 50% of the salaries of professors who do not reschedule courses canceled due to the strike.
Victory to teachers in their campaign for a decent salary, pensions and learning conditions!
Birmingham Student Socialists
London
Socialist Party members joined picket lines at Queen Mary University, King's College London and Goldsmiths College London. Stop the cut in UUK pensions! No more low salaries, precariousness, high workload and inequalities in universities!
London Socialist Party
Sheffield
The Socialist Party supported the UCU pension strike at the University of Sheffield, on five picket lines. UCU strikers held a joint rally with the Just Eat courier strike.
Alistair Tice, Sheffield Socialist Party
Future strike plans
The full strike dates, with the number of institutions involved, are:
Week 1 – (USS pension dispute only, 44 institutions): 5 days; From Monday 14 to Friday 18 February
Week 2 – (both pension litigation and wage and working conditions litigation, 68 establishments): 2 days; Monday 21 and Tuesday 22 February
Week 3 – (remuneration & working conditions dispute only, 63 establishments): 3 days; Monday February 28, Tuesday March 1 and Wednesday March 2
Financial appeal
The coronavirus crisis has laid bare the class character of society in many ways. It is clear to many that it is the working class that makes society work, not the CEOs of big business.
The results of austerity have been clearly demonstrated as public services struggle to cope with the crisis.
Socialist Party hardware is more vital than ever, so we can continue to flag workers fighting for better health and safety measures, against layoffs, for adequate staffing, and more.
We must be prepared for the stormy events ahead and the need to arm labor movements with a socialist program – a program that puts the health and needs of humanity ahead of the profits of the few.
Inevitably, during the crisis, we were unable to sell the socialist and raise funds as we normally would.
We therefore urgently call on all our viewers to donate to our Fight Fund.
---
In The Socialist of February 16, 2022:
---
what we think

UK economic growth figures mask fragile fake recovery
---
News

"Labour by Name – Tory by Policy"

Covid: Fight for full sick pay

Police boss met ousted

Tory Stealth Taxes Weigh on 'Pack Horse Generation'

Left-wing Labor MPs under pressure over Erdington

"Let's stand together and fight"

Neither Washington, nor London, nor Moscow

Australian nurses on strike over understaffing and low pay
---
Erdington by-election

Birmingham Erdington by-election

Campaigning in the Birmingham Erdington by-election
---
Saltley Gate

From our history: 1972 miners' strike
---
PCS Elections

PCS Elections 2022: Time for New Union Leadership
---
Workplace News

Barth's NHS Strike

NEU strike at chain of girls' schools over pensions

Academics fight back

"If we don't fight, we won't win!"

Just Eat strike spreads and forces concessions

Join the scaffs' mass picket at Scunthorpe Steelworks

Worksop Wincanton workers get pay rise after strike
---
Campaigns

Victory for West Sussex care campaigners

Why am I going to the Socialist Student Conference

Campaigning for the March 2 student walkout to happen

Stop the eviction of the Camden homeless collective

East Sussex: Poverty and cuts bring people to the Socialist Party

Save St Mary's Leisure Center

Fund us to fight for socialism
---
Readers' opinions

TV: "Death of two black men: the police in the spotlight"

TV: "A Murder in Tiger Bay"

How Cardiff Bay redevelopment led to 'social cleansing'
---
House
|
The Socialist February 16, 2022 |
Join the Socialist Party
Subscribe
| Make a donation
| audio | PDF | Ebook
---