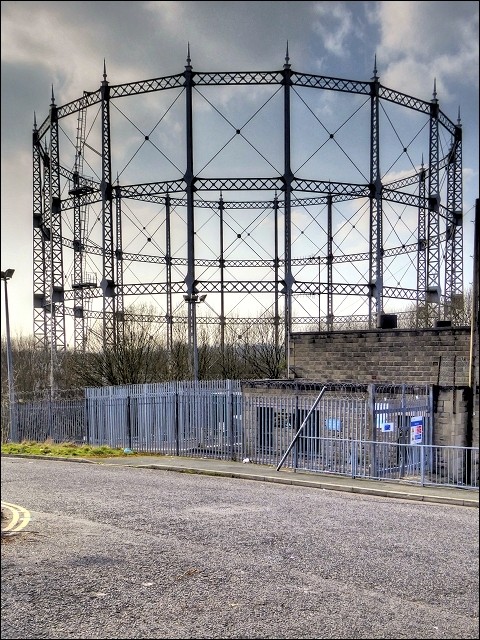 Socialist nationalization is not a bailout for the bosses
Link to this page: https://www.socialistparty.org.uk/issue/1152/33191
From The Socialist newspaper, October 20, 2021
David Dixon / CC Gas Plant (Click to enlarge)
Josh Asker, Socialist Party of North London
The bosses of energy-intensive industries are calling for government bailouts. Soaring international gas prices are increasing the cost of energy and threatening industry profits. With the threat of bankruptcy of some companies, workers' jobs could be threatened.
As is increasingly the case, cracks are widening in Johnson's cabinet. Business Secretary Kwasi Kwarteng has clashed with Chancellor Rishi Sunak over the issue of financial aid to UK industry hit by rising energy prices. This reflects divisions between larger sections of the capitalist class over the way forward for British capitalism, with Sunak favoring spending restraints. Johnson has sided with Kwarteng's call for a bailout, but details of any deal have yet to be revealed.
We cannot trust the Conservatives to save jobs and act in the interests of workers. Many of these industries have made profits and their shareholders have collected lucrative dividends, and now they want a bailout. In September, ministers already agreed on a bailout for CO2 supplier 'CF Fertilizers' – such are their fears that a lack of CO2 could disrupt supply chains, especially food production. Many workers will ask: where is our bailout to cover the cost of rising energy bills?
Responding to this pressure, Sunak insisted that any package will be subject to conditions – that questions will be asked about dividends and bonuses before issuing state-guaranteed loans. There is no doubt that the Treasury is feeling under scrutiny after the Greensill scandal – where former Prime Minister David Cameron used his connections to push for a loan for Greensill Capital before its subsequent collapse in March.
The exact details of government funding for Greensill and the extent of the bailout for CF Fertilizers remain under wraps. The only way to determine what resources these companies really have access to is to open the books for inspection by workers and unions.
Bailouts, including in the form of government guaranteed loans, should not simply be handed over to bosses just to lay off workers or start making lucrative profits again in the future. The only way to secure jobs in these industries is to rely on nationalization under the democratic control and management of the workers. Investments could then be planned to ensure a transition to green production that protects jobs and conditions.
Volatility in global markets and further disruption in supply chains will continue to compound capitalist instability, with rising prices hitting workers hardest and putting jobs at risk (see 'Economic instability of capitalism in the new normal On socialisteparty.org.uk). Only a democratic and socialist planned economy based on public ownership of banks and the main levers of the economy can overcome the chaos of capitalism in crisis and ensure the security and prosperity of workers, as well as a sustainable future for the planet.
Financial appeal
The coronavirus crisis has exposed the class character of society in many ways. This clearly shows to many that it is the working class that makes society run, not the CEOs of big companies.
The results of austerity have been shown graphically as utilities struggle to cope with the crisis.
The material of the Socialist Party is more vital than ever, so we can continue to report workers fighting for better health and safety measures, against layoffs, for adequate staffing levels etc.
We must be prepared for the stormy events to come and the need to arm the labor movements with a socialist program – a program that puts the health and needs of mankind before the profits of the few.
Inevitably, during the crisis, we were not able to sell the socialist and raise funds as we normally would.
We therefore urge all our viewers to donate to our Fight Fund.
---
In The Socialist from October 20, 2021:
---
New

Struggle for a socialist recovery

Conservatives to blame for GP crisis

The carnage of container delays argues in favor of socialist planning

Socialist nationalization is not a bailout for the bosses
---
Workplace News

Unite the union policy conference

University workers vote for strike

Unite and fight for 30,000 permanent DWP jobs

Gwent valleys strikes Stagecoach bus drivers for a fair wage

Reinstate Gary Evans! Llanelli postal workers strike

AGA Napo 2021: the Union on the war footing

Scunthorpe strikes to pay
---
People's budgets

Popular budgets – a socialist response to cruel cuts

Brighton workers' bin in sight against Green-led council

Fight to defend homeless services

Ealing People's Budget – we can resist the cuts

Northampton People's Budget – cuts and privatization a failed strategy

Fighting cuts in the ballot box in Liverpool
---
Fall of apartheid

The fall of apartheid in South Africa
---
Climate change

COP26: unions must fight for a socialist transition to renewables

Save the planet from the capitalist climate catastrophe
---
International

Austria: Chancellor Kurz resigns amid corruption allegations
---
Obituaries

Obituary – Tony Davison: "I work for Militant, but Laing's pays my salary"
---
Campaigns

"Are you the socialist taxi driver?"

Housing crisis: Conservatives and Labor are not on our side

Liverpool arms fair: hundreds of protesters challenge police 'dispersal zone'

Hackney Children's Centers – further cuts to education are devastating

Biggest protest yet to save Stratford Circus

Doncaster: Vigil condemns violence against women
---
Readers' reviews

I am unemployed: for me, the vacancy crisis is a lie

TV Review: Squid Game
---
Home
|
Le Socialiste October 20, 2021 |
Join the Socialist Party
Subscribe
| Make a donation
| audio | PDF | Ebook
---