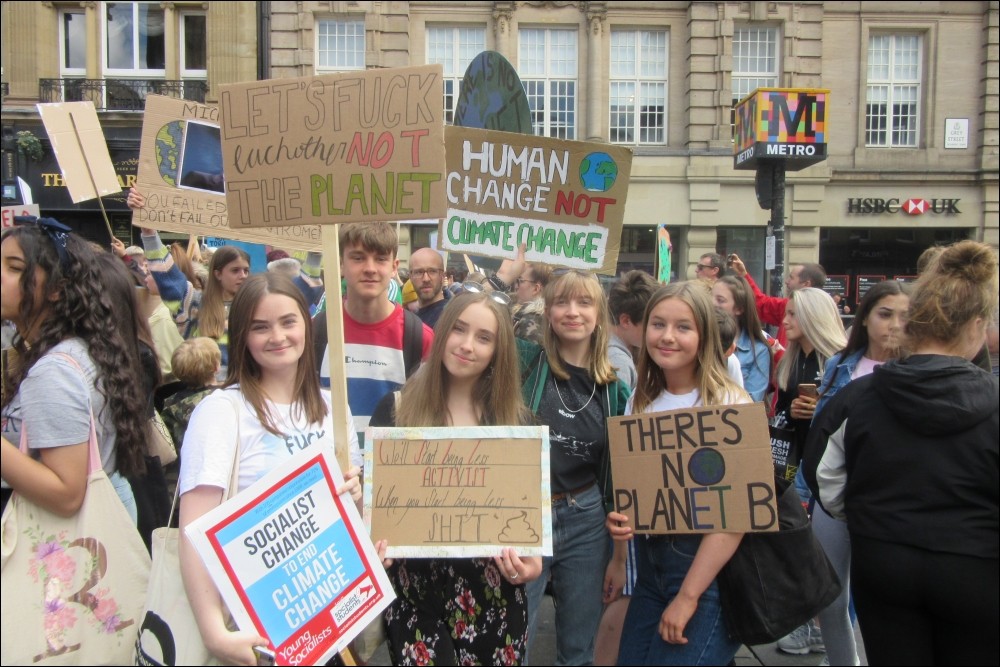 Socialist change to end climate change
Link to this page: https://www.socialistparty.org.uk/issue/1154/33250
From The Socialist, November 3, 2021
Capitalism destroys the planet
Newcastle: Protesters against climate change, 24.5.19, photo E Brunskill (Click to enlarge)
James Leach, Socialist Party of York
It's been three years since the UN suggested 2030 as a deadline to avert a climate catastrophe. Since then – who can say that we are on the way to ecological disaster?
We understand more and more that to stop climate change, a radical transformation of society is necessary.
A recent report from the International Energy Agency suggests that an investment of $ 4 trillion per year is needed to generate clean and secure energy. What capitalist government, and what for-profit company, will ever make this level of investment? If we wait for the ruling classes to make serious changes, we will be waiting for a climate catastrophe.
It's fair to say that most people feel responsible for helping prevent climate change. Most people also recognize that a commitment to recycle and purchase plastic-free products is not enough. People are starting to realize that a bottom-up mass movement is needed to achieve real change.
Tens of thousands of people will demonstrate at COP26 in Glasgow and elsewhere on November 6. Unions represent 6.5 million workers in the UK with the potential to cripple society. A glimpse of this force can be seen in the workers' strikes taking place in Scotland at the COP26 conference.
Worried about their future, hundreds of thousands of students have taken to the streets over the past two years to demand climate action, garnering huge public support. We need the unity of youth movements with workers to demand what is needed to end climate change.
15% of Britain's carbon emissions come from housing. The climate change movement must demand public spending to modernize old gas heating systems and inefficient insulation, with the work being done by skilled workers, well paid and recognized by unions.
Rather than punitive road taxes that make commuting for workers unaffordable and cuts to bus and train services, the climate movement must demand free and accessible public transport.
The movement must demand that the richest in society pay, not the poorest. By nationalizing energy companies and placing them under democratic public control, investments could be directed towards a rapid transition to renewable energies. As part of a socialist plan based on democratic public ownership of banks and big business, investing in the creation of well-paying and secure green jobs could provide a decent future for young people and the planet.
The situation is simple: those who currently run the company are driving the planet into the ground. As the German revolutionary Rosa Luxemburg once said – it is "socialism or barbarism". It is "socialism or climate catastrophe".
Financial appeal
The coronavirus crisis has exposed the class character of society in many ways. This clearly shows to many that it is the working class that makes society run, not the CEOs of big companies.
The results of austerity have been shown graphically as utilities struggle to cope with the crisis.
The material of the Socialist Party is more vital than ever, so we can continue to report workers fighting for better health and safety measures, against layoffs, for adequate staffing levels etc.
We must be prepared for the stormy events to come and the need to arm the labor movements with a socialist program – a program that puts the health and needs of mankind before the profits of the few.
Inevitably, during the crisis, we were not able to sell the socialist and raise funds as we normally would.
We therefore urge all our viewers to donate to our Fight Fund.
---
In The Socialist from November 3, 2021:
---
COP26

Socialist change to end climate change

Struggle for Socialism to End Climate Destruction

Start of COP26 – employee strike

News from COP26 in brief
---
Campaign news

Why I joined the Socialist Party

Financing the struggle for a socialist world

Sheffield students campaign tirelessly for socialist change

Hackney Children's Centers: Campaigners See Through Council Deception

East London gentrification plans unveiled
---
New

Fight for a real wage increase for all

Cuts to local government set to continue – we need councilors ready to fight

Race to the top for bankers

Fight for a minimum wage of £ 15 an hour and an end to youth tariffs

Water companies put profits before protecting our environment

Conservatives Threaten Arts Students: We're Ready to Fight Back!

Tory Universal Credit offers no solution to the cost of living crisis

Conservative plans won't solve welfare

Wage freeze lifted for civil servants – now prepare for the fight for a decent raise
---
Workplace News

NEU: a strategy needed to bring members together to take national action

Oaks Park school strike spurred on by chief's lies

Scunthorpe scaffolds enter fifth week

Unite supermarkets to get support for fires and Weetabix rehire strike

Compensation dispute for plant engineers
---
Fight sexism

Sexism, security and the profit system
---
International news

Sudan – mass protests and general strike against coup

Chile: International solidarity campaign to free political prisoners

Vaccine inequality – the ugly face of capitalism

Hunger strike in Calais for refugee rights

Sudan coup protests reach Britain
---
Home
|
Le Socialiste November 3, 2021 |
Join the Socialist Party
Subscribe
| Make a donation
| audio | PDF | Ebook
---