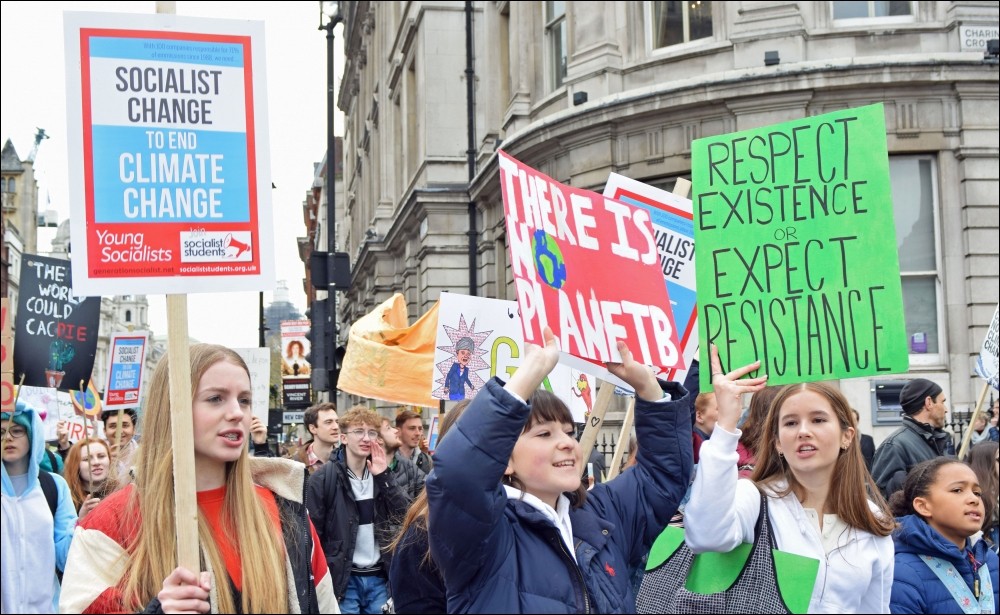 Socialist change, not climate change
Link to this page: https://www.socialistparty.org.uk/issue/1146/32991
Excerpt from The Socialist newspaper, September 8, 2021
Dave Nellist – chairman of the Trade Unionist and Socialist Coalition and member of the Socialist Party national committee – wrote the following letter to the Observer in response to Green Party Baroness Natalie Bennett's call for capitalist reforms to put a end to catastrophic climate change.
Demonstration against climate change in London on 12.4.19, photo Mary Finch (Click to enlarge)
Natalie Bennett calls for "system change, not climate change" (Your Letters, August 22), but then offers solutions that do little to challenge the vested interests of the existing economic system and its owners.
Moving climate heating industries to zero carbon emissions requires urgent national and international planning and significant investment. There are two problems. First, we can't plan what we don't fully control, and we don't fully control what we don't own. Second, private investment in a market-based system is limited by the expectation of its owners to make a profit.
The fundamental system change needed is public ownership and rational economic planning in a democratic socialist system. Unfortunately, we do not yet have a major political party that advocates this.
Leaving society under the continued control of millionaire politicians being told by billionaire business owners not to threaten their profits will fundamentally change nothing.
---
Save the planet – make capitalism disappear
Heather Rawling, Leicester Socialist Party
The other day, listening to the radio, I heard a grandmother's story explaining why she was taking part in the recent Extinction Rebellion protest in London.
The interviewer asked her what she thought was the solution to climate change. This question would have been a gift for a socialist.
We would have explained that there is no solution under capitalism, even if the capitalists really want to find a solution.
Capitalism operates on the pursuit of short-term profits, with owners and nations competing with each other.
Until the working class and the world's poor democratically own and control the world's resources, we will not have a satisfactory solution.
Instead, the XR spokesperson said they weren't "fixing" they were just alerting people to the problem.
I think most of us know that climate change is happening and there is an urgent need for humanity to address the threat.
I call on people concerned about the threat of climate change to fight for socialism, as the only way to fight the threat, democratically, on a global scale.
The Socialist Party says socialist change to stop climate change: Take control of big business so we can democratically plan the use of the world's resources, for need and not for profit.
Financial appeal
The coronavirus crisis has laid bare the class character of society in many ways. It is clear to many that it is the working class that makes society work, not the CEOs of big business.
The results of austerity have been clearly demonstrated as public services struggle to cope with the crisis.
Socialist Party hardware is more vital than ever, so we can continue to flag workers fighting for better health and safety measures, against layoffs, for adequate staffing, and more.
We must be prepared for the stormy events ahead and the need to arm labor movements with a socialist program – a program that puts the health and needs of humanity ahead of the profits of the few.
Inevitably, during the crisis, we were unable to sell the socialist and raise funds as we normally would.
We therefore urgently call on all our viewers to donate to our Fight Fund.
---
In The Socialist of September 8, 2021:
---
NHS and social care

NHS and social care – make the rich pay, not the workers

Workers should not pay for health and social care schemes

No more service cuts and childcare costs

Families demand rights for nursing home residents

Whipps Cross Hospital workers reject the 3%
---
what we think

A pivotal moment for the labor movement
---
Socialist Party news and campaigns

National Council of the Socialist Party – members excited about a great in-person meeting

Why I joined the Socialist Party
---
Education

Union action needed to make schools Covid safe

Fight against NEU leadership needed to tackle school funding crisis

School funding crisis fails vulnerable children

University bosses pass a proposal to reduce pensions
---
September 11 twenty years later

9/11 and the "war on terror" twenty years later
---
Workplace News

Bexley bin workers score big gains after six-week strike

Equity protest to save arts center forces Newham council talks

DWP: Demand safe work and more jobs

DHL workers on strike against wage theft
---
Young people fight for jobs

Organizing to defend our future: October 9 – Day of action for the struggle of young people for employment

Building the struggle of young people for employment in the South West
---
International information

Libya – ten years after the overthrow of Gaddafi

US Supreme Court refuses to challenge Texas abortion ban

Drive the Fascists out of Portland: Create a Mass Movement to Fight the Right
---
Readers' opinions

The street where I live

Socialist change, not climate change

Vigil: A Nuclear Underwater Murder Mystery
---
obituary

Obituary: Roger Henshaw, comrade and class fighter
---
Homepage
|
The Socialist September 8, 2021 |
Join the Socialist Party
Subscribe
| Make a donation
| audio | PDF | Ebook
---