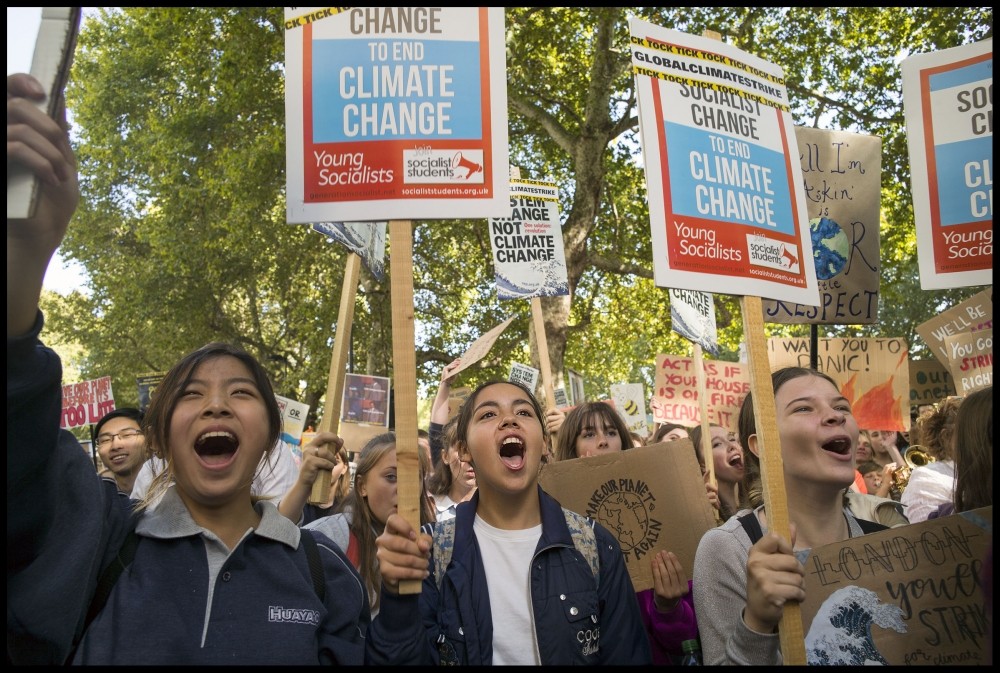 Parti Socialiste :: The green hypocrisy of the G7
Link to this page: https://www.socialistparty.org.uk/issue/1137/32625
Excerpt from The Socialist newspaper, June 9, 2021
Climate strike in London on September 20, 2019, photo Paul Mattsson, photo Paul Mattsson (Click to enlarge)
Dan Smart, Bristol Socialist Party
As the G7 summit arrives in Cornwall, the group of seven wealthy capitalist nations have been found to have bailed out the heavily polluting aircraft and car industries to the tune of $115 billion.
As Johnson launches soundbites about "building back better," these actions set a precedent in supporting environmentally harmful industries for decades to come.
The Tearfund report found the same applied to major oil and gas producers. The seven countries pumped $42 billion more into fossil fuels than into clean forms of energy during the pandemic. The vast majority of these grants were not accompanied by any preconditions for companies to reduce their emissions.
The G7 summit could have been an opportunity for the world's major economies to show that they have a plan for the future of our planet beyond Covid-19. Representing barely 10% of the population, they are still among the most polluting in the world, contributing to a quarter of global CO2 emissions.
While discussions over the three days are sure to be full of green rhetoric, their actions tell a very different story. But what else do we want from a system that puts dirty profits above our environment and our livelihoods?
Financial appeal
The coronavirus crisis has laid bare the class character of society in many ways. It is clear to many that it is the working class that makes society work, not the CEOs of big business.
The results of austerity have been clearly demonstrated as public services struggle to cope with the crisis.
Socialist Party hardware is more vital than ever, so we can continue to flag workers fighting for better health and safety measures, against layoffs, for adequate staffing, and more.
We must be prepared for the stormy events ahead and the need to arm labor movements with a socialist program – a program that puts the health and needs of humanity ahead of the profits of the few.
Inevitably, during the crisis, we were unable to sell the socialist and raise funds as we normally would.
We therefore urgently call on all our viewers to donate to our Fight Fund.
---
In The Socialist of June 9, 2021:
---
News

G7 tax deal won't challenge corporate power

Murder of Dea-John Reid: Jobs, homes and services, no racism

Conservative Schools Catch-Up Plan: Fight for the Funding Our Schools and Colleges Need

Post-Brexit trade deals: worker mobilization needed to end corporate extortion

The green hypocrisy of the G7

New book – coming soon: The Struggle for World Socialism

The G7 cannot solve poverty, Covid and climate change – join the fight for socialism
---
what we think

Conservatives split and infighting grows
---
NHS

"Let's fight to win on NHS pay and funding"

We are preparing for the NHS protests on July 3
---
Workplace News

Goodlord striker speaks out: How we unionized and fought the bosses

Revolt against 'social partnership' at Wales Trades Union Congress 2021

Douwe Egberts workers strike against pay cuts of up to £12,000 a year

London workers prepare to fight Khan transport cuts

If unions lead by example, workers are fully prepared to fight and achieve victories

Fight for a socialist leadership in the PCS, build a combative and democratic union!

Labor news in brief
---
The lessons of history

The occupation and work of Upper Clyde shipbuilders in 1971
---
Campaign news

Pavement safety: Protests demand developers and government pay

'Rights are earned, not given' – London refugee wins housing debt campaign

Hundreds of people demonstrate to abandon the Silvertown tunnel project

Shame on Clarion – another exploitative owner
---
Israel/Palestine

Palestinian self-determination – is the solution one state or two?
---
Readers' opinions

Television Review: Mrs. Thatcher vs. Miners

Readers' opinions
---
Homepage
|
The Socialist June 9, 2021 |
Join the Socialist Party
Subscribe
| Make a donation
| audio | PDF | Ebook
---