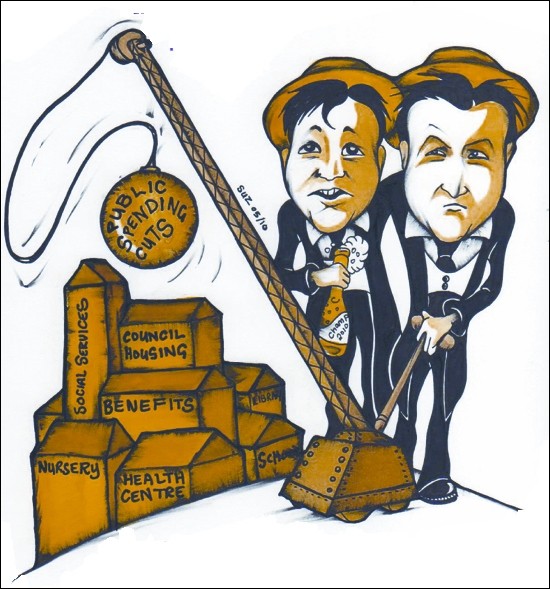 Lib Dems Supported Benefits Sanctions To Earn 5p Carry Bag Fee
[ad_1]
Link to this page: https://www.socialistparty.org.uk/issue/993/27300
From The Socialist, May 2, 2018
Tory David Cameron and Lib Dem Nick Clegg worked together on the Austerity Wrecking Ball, Suz cartoon (Click to enlarge)
A Lib Dem fanatic claimed responsibility for the plastic bag charge – saying it was enough to accept more attacks on welfare.
Polly Mackenzie was policy director for Liberal Democrat leader Nick Clegg under the Conservative-Liberal coalition government. April 19, she told twitter:
"It's so cool now to ban plastic, it's the government's go-to policy for spreading the news of a bad story. It's worth reflecting on how far we've come in the past four years…
"The Lib Dem ministers started demanding a 5p charge on plastic bags. It took us months to persuade Cameron and Osborne.
"We finally got the policy in a conference eve exchange, in exchange for tougher sanctions on benefits."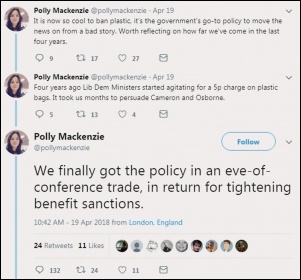 Polly Mackenzie is … proud to have been charged with plastic bag while attacking benefit claimants? (Click to enlarge)
.
Financial appeal
The coronavirus crisis has exposed the class character of society in many ways. This clearly shows to many that it is the working class that makes society run, not the CEOs of big companies.
The results of austerity have been shown graphically as utilities struggle to cope with the crisis.
The material of the Socialist Party is more vital than ever, so we can continue to report workers fighting for better health and safety measures, against layoffs, for adequate staffing levels etc.
We must be prepared for the stormy events to come and the need to arm the labor movements with a socialist program – a program that puts the health and needs of mankind before the profits of the few.
Inevitably, during the crisis, we were not able to sell the socialist and raise funds as we normally would.
We therefore urge all our viewers to donate to our Fight Fund.
---
In The Socialist of May 2, 2018:
---
What we think

Windrush: Rudd resigns. May and the Conservatives must go
---
Socialist Party News and Analysis

Young people trapped in private rental

Reject mega-supermarket merger: nationalize to save jobs

100,000 more zero-hour contracts in just one year

Windrush: Whitehall demo puts Tories and Blairites to shame

The fury of trade unionists after the expulsion of anti-racist activist Marc Wadsworth

Lib Dems Supported Benefits Sanctions To Earn 5p Carry Bag Fee
---
200 years of Karl Marx

200 years of Karl Marx: Marxist ideas more relevant than ever
---
France '68

May 1968: police attacks on students spark mass revolt
---
Socialist Party workplace news

May Day McStrike: "A symbol for all workers"

Hull University workers and students protest layoff plan

RMT members reject calls for Labor affiliation during debate in London

Union of radiologists discusses coordinated action

Usdaw Conference 2018
---
Socialist Party reports and campaigns

Stop Trump! Build for walkouts and mass protests on July 13!

Building fund appeal crushes £ 150,000, keep going!

Salford Nursery activists fight outside Parliament

Parents and activists protest cuts to disabled travel in Leeds

Obituary: Roy Corke 1945-2018

Leicestershire NHS Campaign Launch
---
Local elections 2018

TUSC is causing a stir in Haringey

Groundswell of support for TUSC in Huddersfield

TUSC opposes gentrification and logging in Waltham Forest
---
International Socialist News and Analysis

Spain: "We don't want to be brave, we want to be free!

Catalonia: thousands in the streets

USA: Defending Socialist Councilor Kshama Sawant

Malta: insult from right-wing Labor leader on May 1
---
Opinion

The Socialist Inbox
---
Home
|
The Socialist May 2, 2018 |
Join the Socialist Party
Subscribe
| Make a donation
| audio | PDF | Ebook
---

[ad_2]