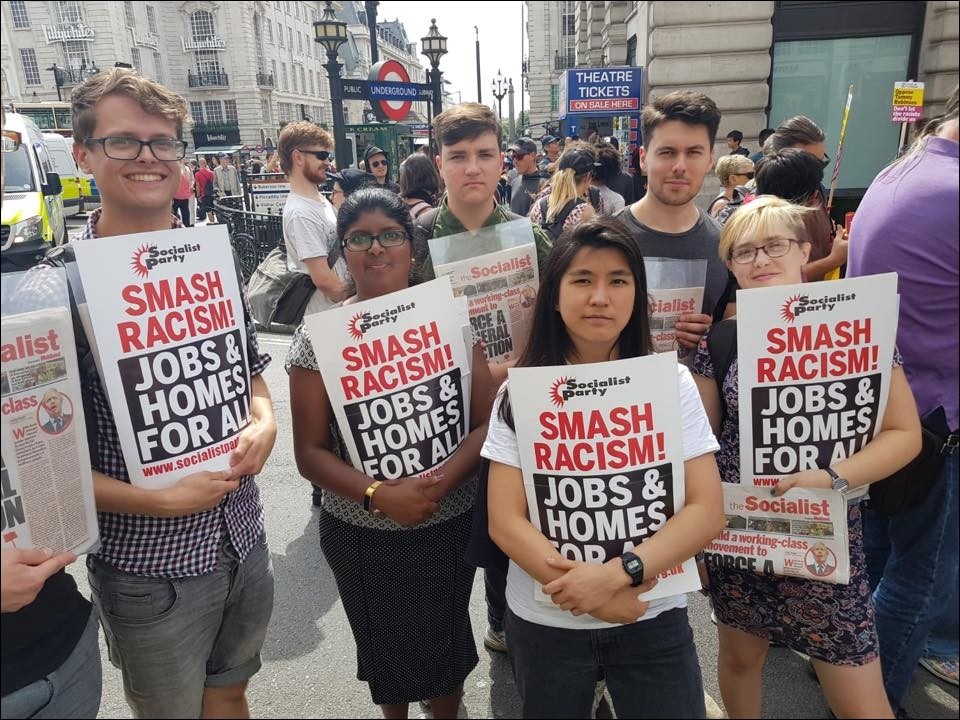 It's time to join the Socialist Party
Link to this page: https://www.socialistparty.org.uk/issue/1058/29656
From The Socialist, October 2, 2019
photo Kevin Parslow (Click to enlarge)
Mark Best, Socialist Party membership organizer
Have you read the Socialist and thought about joining the Socialist Party? Now is the perfect time to join us.
As the fog of confusion swirls as the Brexit deadline approaches, the capitalist establishment is in crisis. The need for Corbyn to lead the fight against the capitalist class and its representatives – conservatives, Blairites and anti-worker politicians of all types – is urgent.
We hope you find the Socialist articles useful in resolving the confusion in the actual processes of change in society, which are sometimes hidden beneath the surface. Our socialist analysis and combat strategy represent the condensed experience of Socialist Party members campaigning across the country with Marxist ideas.
We recently reprinted our short brochure "The Case of Socialism – Why You Should Join the Socialist Party". This explains why we are fighting and why we need you to join us.
We also reprinted a leaflet on our struggle record. Led 18 million people to defeat Thatcher's voting tax. Show how the struggle of the working class can create jobs, housing and services in Liverpool City Council. And fight to get rid of the conservatives and build a mass working class party.
If you are interested in joining or purchasing this literature, talk to your local Socialist vendor or contact the National Socialist Party office.
---
Why I joined the Socialist Party
I wanted a way out and make the change
Lilian Young
In my early teens, like many of my friends, I had almost no political influence. Most of my information came from my parents' reluctant support for Tony Blair's New Labor.
By the time of the 2012 US election, I had developed my own grassroots positions, which largely boiled down to "good Labor and Democrats, bad Conservatives and Republicans." It was not a fully formed understanding, but it shifted me slightly from the "center" and slowly slid me to the left.
Over the next few years, I started to "find" myself a little more. I explored aspects of sexuality and gender that opened my eyes, not only to the struggle of LGBTQ + people, but to all oppressed people.
I have found online communities of like-minded people who have helped me feel secure in my new identity. I met people who were politically engaged, and from them I started to learn what was going on in the world – the things that made me angry.
I learned how the struggles for rights are a constant struggle, how every moment the people in power who hate us will seize every opportunity to hold back progress. I have learned how unjustly wealth is controlled in our society – with a small handful of incredibly wealthy people, who rarely have to lift a finger, supported by borderline slave labor, especially in neocolonial countries.
And I learned how some of the biggest oil companies in the world knew longer than I did that their actions were destroying the environment, but they suppressed the information and carried on because they kept making them money. .
It was there that I realized that capitalism had to go.
Learning that didn't do me good. The world seemed to be getting worse and I couldn't change it. I couldn't vote yet, and was constantly stuck in endless online discussions that seemed to affect nothing. All I wanted was a way out and try to change things.
Then in 2018 I went to Newcastle Pride, and I saw the Socialist Party booth – I didn't even know there was a Socialist Party – and put my name on it. As soon as I got involved, I felt welcomed and valued, and like I could finally make a difference, no matter how small.
I will fight to get there. That is why I joined the Socialist Party.
---
Why am I joining the Socialist Party
It's time to stand up and be counted in the fight
Adam walker
I first wrote to the Socialist on November 18, 2015. Almost four years ago. I've written about the terrible practices on construction sites and how Robert Tressell's classic socialist novel, The Ragged-Trousered Philanthropists, really resonated with me.
Almost four years later, I was no longer a member of the Socialist Party.
I had three children whose future worries me constantly. I have moved many times, to slum owners whose properties are never habitable and yet charge exorbitant rates. And I have seen disabled family members struggle under Tory cuts.
I am still a decorator and have worked all over the country. Everywhere I go, it's the same.
The same lower quality standards to achieve crazy goals to maximize big business profits. The same contempt for health and safety because it makes it difficult to progress quickly on the site.
The same dirty, dusty, moldy, wet and cold working conditions. And the saddest thing of all is to see men over 65 still forced to do hard labor to make ends meet.
I realized that I can't hide my head anymore and I hope everything goes through me. The events of the past few weeks in Parliament have made me realize that more than ever I must stand up and be counted.
I have to join the fight and do what I can to help. It is time for me to join the Socialist Party again and stay there for good this time, or I will forever be a philanthropist in ripped pants.
Financial appeal
The coronavirus crisis has exposed the class character of society in many ways. This clearly shows to many that it is the working class that makes society run, not the CEOs of big companies.
The results of austerity have been shown graphically as utilities struggle to cope with the crisis.
The material of the Socialist Party is more vital than ever, so we can continue to report workers fighting for better health and safety measures, against layoffs, for adequate staffing levels etc.
We must be prepared for the stormy events to come and the need to arm the labor movements with a socialist program – a program that puts the health and needs of mankind before the profits of the few.
Inevitably, during the crisis, we were not able to sell the socialist and raise funds as we normally would.
We therefore urge all our viewers to donate to our Fight Fund.
---
In The Socialist of October 2, 2019:
---
What we think

Division of the capitalist elite – struggle for a government in the interests of the working class

40 years later: mandatory reselection more vital than ever for Labor
---
Brexit

Is a workers' Brexit deal possible?
---
Fresher fairs

Freshers fairs 2019: Students eager for change and determined to fight
---
New

Boris defeated must go … and all the Tories with him!

Nationalization is the only way to save jobs and skills at Wrightbus

Labor mass pledge for social housing

Them us
---
Workplace News

Royal Mail conflict: workers determined to fight bosses injustices

Election of PCS Secretary General – Support Marion Lloyd

Bromley Library strikers got it right

Hull: construction workers' walkout forces employer to back down

Crown Paints dispute – Steward speaks

End low wages – support the action of Salford Royal security workers

Karro Foods victory Hull
---
International Socialist News and Analysis

Catalonia independence movement two years later

Egypt: street protests challenge Trump's favorite dictator
---
Socialist Party reports and campaigns

Socialism 2019: an unmissable event

It's time to join the Socialist Party

Financing the socialist struggle
---
The reader's opinion

The Socialist Inbox

Active and strong member of the Socialist Party turns 80
---
Home
|
The Socialist October 2, 2019 |
Join the Socialist Party
Subscribe
| Make a donation
| audio | PDF | Ebook
---