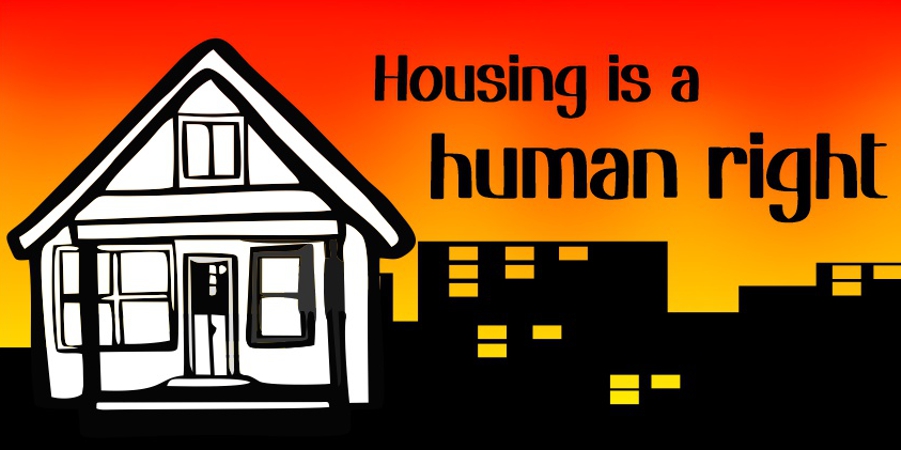 Greens campaign for rent freeze and housing affordability
Prime Minister Anthony Albanese's crude attempt to To make a joke comparing The Lodge – a 40-room mansion with a tennis court, swimming pool and private chef – with "social housing" shows how remote it is from the concerns of ordinary people.
As interest rates approached a seven year high September 6, The Guardianciting an analysis by financial data firm RateCity, reported that will mean an additional $144 per month in mortgage payments for every $500,000 borrowed.
Australian Broker reported in August that "nearly half of Australian homeowners are under mortgage pressure, with 45% of households spending more than they earn".
This is on top of "rental stress" – defined as spending 30% or more of one's income on rent – ​​which affects millions of people.
A survey commissioned by Clever indicates that 1.4 million people may be in some form of rental stress, and 1.1 million may be experiencing "extreme" rental stress.
"When combined, the total number of Australians spending 30% or more of their income on rent comes to 14%, or 2,719,000 possible people nationwide," Savvy reported.
The ABC reported similar figures in April.
It is in this context that the Greens' housing spokesperson, Max Chandler-Mather, called for a two-year rent freeze.
"Over the past 12 months, rents have risen seven times faster than wages in capital cities, forcing millions of Australians into severe tenancy stress while some regional areas have seen rents rise at even higher rates. ", he said on social media on August 25.
"By freezing rents for 2 years and capping rent increases thereafter, we can give wages and incomes a chance to catch up and protect millions of households from possible eviction."
Albanian mocked the idea of ​​freezing rents, saying, "It's not clear to me, short of nationalizing the property, how that could be achieved. I haven't seen any proposals, and the Greens haven't raised this at all with the government.
However, the proposal is feasible and clear.
The Greens are proposing that the National Cabinet coordinate a nationwide freeze, with state and territory governments using their respective rental tenancy laws.
Chandler Mather replied in Albanese on September 7, saying: "Scotland has frozen rents in the private rental market without 'nationalising all property'".
"There's a reason Scotland freezes rents," he continued, "because it works and that's exactly how you protect tenants from unfair and massive rent increases.
"Now that Scotland has shown the way, it is time for the Federal Government to finally start to seriously address this once-in-a-generation housing crisis."
Chandler-Mather said the Victorian government froze rents in the past and the federal government also froze rents during World War II.
Green MP Amy MacMahon moved for a two-year rent freeze on August 31 in the Queensland parliament. The MacMahon bill amending the Residential Tenancies and Rooming Accommodation Act 2008 would make it illegal for landlords to charge more rent than was charged on August 1. This would not change with a new tenant or if the house was renovated. After two years, a 2% rent increase would be allowed every two years.
Queensland Labor Housing Minister Leeanne Enoch rejected the Greens' plan, calling it "extremist". She suggested tenants would be at a disadvantage as a rent freeze could 'lead to a further reduction in the supply of accommodation in the private rental market'.
This reflects the position of the main parties not to support any law that puts downward pressure on property prices.
Socialist Alliance co-organizer Sam Wainwright said left green that "This view is fundamentally at odds with the measures needed to make housing affordable for the majority of the population.
"We believe Parliament should cap private rents at current levels for 10 years and that public and social housing rents should not exceed 20% of a tenant's income."
Wainwright said other necessary measures that reduce the overall price of housing could include: expanding public housing; ending tax breaks such as "negative gearing" for investors; and an extension of tenant rights.
Wainwright said while some homeowners will not be affected by falling property prices, those with large mortgages will be affected and need to be protected.
The big winners from rising house prices are corporate investors and big landlords, "like the parasite on 2GB who wanted sympathy while admitting to hold 283 investment properties".
Wainwright said these big investors must be made to pay to ensure policies that protect housing justice for all.
Brisbane Greens councilor Jonathan Sriranganathan is campaigning for financial sanctions against investors who leave properties vacant for long periods.
On September 6, he asked the council to undertake a public consultation with the aim of introducing "a separate and higher category for residential investment properties left vacant for at least six months".
Its aim is to ensure that investment property owners "have a stronger financial incentive to rent vacant homes or sell them".
He said higher rates or fees would not apply to owner-occupied homes or rented investment properties.
The National Liberal Party majority on the council voted against his motion, but it was backed by Labor and an independent adviser.
Sriranganathan said a minority of real estate investors prefer "leaving investment properties empty rather than renting them". They do this "because they are more interested in making a lot of money by selling the property for a higher price than they bought it".
Brisbane City Council already has different rating categories for commercial, industrial and rural properties, as well as owner-occupied homes versus investment properties.
Sriranganathan is right to say that creating a new category that distinguishes between let investment properties and investment properties left empty for the long term is "reasonably straightforward".