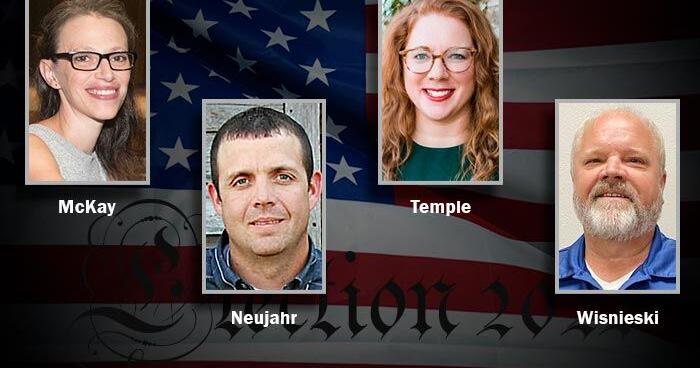 Diverse backgrounds vying for NRD Sub-District 3 seats | News
Four Norfolkans will be competing for two positions to represent Sub-District 3 on the Lower Elkhorn NRD Board of Directors.
Incumbents Anthony Wisnieski and Libby McKay are competing for two-year terms, and Matthew Neujahr and Melissa Temple are competing for four-year terms. They will also face each other in the general election for the non-partisan position.
Wisnieski said he wanted to continue serving. He is Chairman of the Finance Committee of the Board of Directors.
McKay said she decided to run for office because she believes "we need to foster open conversation and dialogue about the state of natural resource use."
"I also believe that councils that serve such an important purpose and such a large part of the state should have a diversity of perspectives that would allow them to consider and discuss items, tasks and concerns in a more overall," McKay said.
IN THE four-year run, Neujahr said he runs because he wants to be more involved in the community and the sustainability of water and natural resources for future generations.
"With my experience in agriculture and my many years of working with agricultural producers and several DRNs, I think I would be a good seat to help solve some of the problems we face. I'm fairly new to Norfolk and I've had a lot of support and confidence to run for this office, and that means a lot to me," Neujahr said.
Temple said she was running for the board because she wanted to contribute to the growth of northeast Nebraska, which begins with the relationship with the land.
"I am passionate about conserving and ensuring the health and vitality of our natural resources for generations to come," Temple said. "Growing up, I spent much of my time exploring the outdoors, which instilled in me a sense of responsibility and stewardship for the land and waterways that supported and nurtured me."
Temple said she cares about water quality and having safe lakes and rivers in which to play, swim, boat and fish, in addition to having clean drinking water free of toxins. .
"Our shared water systems belong to everyone, and we all have the right to clean, safe drinking water," Temple said. "In this office, I would like to work on mitigating nitrate levels in groundwater, which have been linked to serious health risks for infants and children, pregnant women and childhood cancers, thyroid , ovaries, bladder, kidneys, breast, stomach and colorectal.
"As a local teacher, I have frequently used Lower Elkhorn NRD teaching resources to help my students learn how to better care for our environment. I created outdoor classrooms and introduced my students to the wonders of our natural world. »
Neujahr said he wanted to learn as much as possible about the issues the NRD is tackling, while "providing information and insights from my own experiences to help continue to protect our natural resources and maximize the taxpayers' money in the community of Norfolk".
"I love farming and have really enjoyed being in Norfolk since moving here in August 2018 so being a part of that and being more involved in the community is very important to me," said Neujahr.
Temple said she was a candidate guided by her faith to care for creation, be a good steward of resources and live in good relationship with God, her neighbor and the earth.
"For our community to thrive, we need to look after our natural resources with respect and care so they can in turn continue to look after us in the future. My passion for the outdoors, leadership and agricultural experiences, my background in education and politics, my stewardship ethic, and my work as a youth teacher and mentor with the Nature Conservancy uniquely qualify me as a candidate. in this position," Temple said.
"Furthermore, I come from a long line of farmers and ranchers and have many family members whose livelihoods depend on what they can grow and raise. I know the intricacies and anxieties of being economically dependent on terrestrial and subterranean systems, and I understand how vital they are to our sustainability as an agricultural state," she said. "Our natural resources are the collective assets of our community, which we must work together to manage faithfully."
Lower Elkhorn NRD Sub-District 3
BACKGROUND: I grew up on a farm between Dodge and West Point and have worked in construction for 24 years. Co-owner of Building Green Structures and also a member of a dealer advisory board for Energy Panel Structures, a building materials company.
FAMILY: Wife, Cheryl; his daughter, Jill, who is married and lives in Omaha; son, Tim, is married and lives in Omaha.
Lower Elkhorn NRD Sub-District 3
BACKGROUND: My family and I have lived in Norfolk for almost 12 years. Serve as Executive Director of the Elkhorn Valley Museum and serve as Chairman of the Norfolk Community Theater Board of Trustees and serve on the Norfolk Library Advisory Board.
FAMILY: Husband, Eric; three children.
Lower Elkhorn NRD Sub-District 3
EDUCATION: BS from Indiana Wesleyan University in Exceptional Needs Education, with minors in Psychology and Coaching; MA in Social Justice and MA (ABD) in Innovation and Leadership from Kilns College; MA in Christian Education with a focus on Ecology and M.Div. with a focus on ethics and political theology from Princeton Theological Seminary.
BACKGROUND: Past ecological experience includes working for the Nature Conservancy through its LEAF program, spending four years volunteering on a farm using regenerative agriculture practices, and studying ecology, sustainability and justice food in high school. Leadership and political experience includes co-founding and serving as a board member and vice-president of I AM For Freedom, a former Norfolk anti-human trafficking nonprofit . In graduate school, served in student government as a student-faculty liaison advocating for the needs of the student body to faculty in various academic departments. Took courses in political leadership and public policy at the Princeton School of Public and International Affairs and was a fellow in religion, diplomacy and international affairs at the Liechtenstein Institute of Self-Determination. Local organizations include Norfolk Community Theatre, Norfolk Area Diversity Council and Norfolk Connect.
BACKGROUND: Certified K-12 special education teacher and previously taught at ESU 8 Eastern Learning Center in Norfolk for five years. Owns and operates Temple Educational Services, an online tutoring and learning intervention service. Also a part-time YMCA gymnastics coach and certified spiritual director.
Lower Elkhorn NRD Sub-District 3
EDUCATION: Graduated from Osceola High School, then attended Iowa Western Community College, received an AAS in Farm Business Management.
BACKGROUND: Branch manager at Helena Agri-Enterprises in Norfolk and has worked all his life in agricultural retail. Close a bit in Polk and Platte counties.
FAMILY: Wife, Angie; family of five boys.