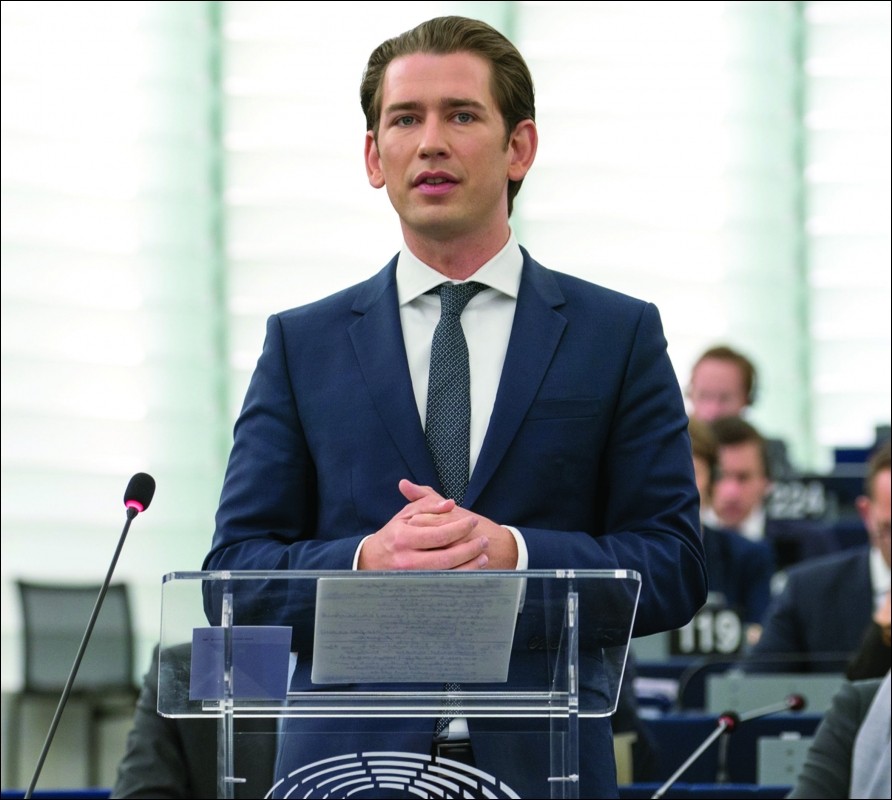 Chancellor Kurz resigns amid corruption allegations
Link to this page: https://www.socialistparty.org.uk/issue/1152/33192
From The Socialist newspaper, October 20, 2021
sebastiankurz-EU2018-EuropeanParliament-CC (Click to enlarge)
Laura Rafetseder, Sozialistische Offensive (CWI Austria)
Sebastian Kurz of the right-wing People's Party (VP), for five years a shooting star of the European conservatives, had to "resign" from the Austrian Chancellor on 9 October. His resignation comes amid criminal investigations against his relatives and allegations of fraud and activities that were at best "deeply immoral" and at worst illegal.
This is the second corruption scandal to rock the Austrian establishment in recent years. In 2019, a scandal destroyed Kurz's coalition with the far-right Freedom Party (FP).
It was the so-called Ibiza scandal of Heinz-Christian Strache, then leader of the Freedom Party. He was filmed in Ibiza discussing helping someone he believed to be the niece of a Russian oligarch to buy Austria's biggest tabloid Die Krone (The Crown) in exchange for favorable publicity in the run-up to the October 2017 general election.
This time around, the media scandal involved the tabloid sterreich (Austria) with which Kurz allegedly cooperated to forge opinion polls and paid to gain friendly media coverage while building his political career in 2016-17.
This is just the top of the allegations. Scandals have become so numerous that it is difficult to follow them.
As Kurz tried to cling to power in the first days after the news of the unprecedented police raids on the Chancellery and VP headquarters was announced, it appears he has increasingly faced pressure. from inside his own party.
By 2017, he had secured power in his party, which made him largely independent from the powerful regional VP leaders. It now seems that this power was only on paper and as long as Kurz won the elections for them.
Conservatives in turmoil
The People's Party and Kurz have lost around ten points in the latest polls. Some placed them at 27%, others at 26%, against nearly 37.5% in the 2019 election.
The vice president's coalition partner, the Green Party, has made it clear that he will only pursue the coalition if Kurz steps down – essentially an ultimatum. If the Greens had not done so, they would have collapsed because their ranks would have rebelled.
When Kurz finally announced his resignation, a sigh of relief crossed the Austrian capitalist class, as an all-party coalition would have been very unstable, especially given the FP's anti-vaccine stance at a time when the Covid pandemic is not finished. again.
For now, Kurz retains his post as VP party leader and has also taken up his post as head of his parliamentary faction. It seems that as a member of Parliament he will get immunity, but his party has already committed to lifting that immunity.
The place of chancellor of Kurz was taken by Alexander Schallenberg, former minister of the outside. Schallenberg comes from the old aristocracy who became a family of diplomats and is said to be close to Kurz but not involved in the scandals.
All of this comes at a time of turmoil in Austrian society – last week there were big protests by kindergarten teachers. On the Tuesday following Kurz's resignation, 5,000 private-sector kindergarten teachers stopped working for a protest, and two days later another 1,000 public-sector kindergarten teachers demonstrated. They demand more staff, higher salaries and should not be ignored in the midst of the pandemic.
Some of the many self-made banners and placards referred to the Kurz scandals, saying, "Don't put money in media ads, put it in child care." One of the revelations implied that Kurz had, in order to pursue his career, manipulated a regional government to stop a reform of a previous VP-SP (Social Democrats) coalition that would have given more money to schools and daycares.
A protest by education workers against budget cuts and for better education is scheduled for October 19. The steelworkers are also heading for a confrontation with the bosses over a wage demand. Regional conferences of trade union representatives from the metallurgical sector have been announced for next week to discuss new measures.
Read this full article on socialistworld.net
Opportunity for the left to build a socialist alternative
In September, the Austrian Communist Party (KP) won municipal elections in Graz, Styria, shocking the ruling class. The huge contrast between the corruption of Chancellor Kurz's entourage and the KP's approach in Styria, of taking only a worker's salary for a political office and giving the balance to causes, has been widely noted. .
A recent opinion poll showed that 70% thought it would be good if politicians only took a worker's salary like the KP in Graz does. It shows how the long history of corruption and disappointment with the main parties has created an opportunity to build an alternative. The question is: who will take the initiative?
In this situation, it is more urgent than ever to build a new mass workers party that can show a way out. Both the PS and the Greens have proven through their participation in government that they are not trustworthy and that they firmly support the capitalist system.
The PS have been among governments that have introduced cuts, while the Greens' new "green" tax reform makes working class people pay for climate change instead of big business.
The SP's own corruption has been one of the reasons for its decline. On the other hand, a new party should channel all the protests that are going on right now and be a tool of struggle, as well as a place where workers and young people can discuss the agenda they need.
The KP Styria and Links Wien (a small formation of the new left with 23 district councilors in Vienna) are responsible for taking initiatives in this direction. Links Wien is starting to develop a capacity for mobilization. On October 7, the day after the police raids on Kurz's office, they took the initiative to call for a demonstration, during which they, along with other organizations, mobilized up to 7,000 people.
After the elections in Graz, opinion polls were published placing the KP at the federal level at 4%. Beyond that, 42% believe that the KP led by Elke Kahr of Graz is a party they could, in principle, vote for.
It is very likely that the now very unstable situation will lead to new elections within a few months. The KP Graz and Links Wien, as well as the left in general, should take the initiative to unite the ongoing protests and channel them into a new party.
Such an electoral alliance would be a concrete step forward and a way to attract the support of those who have been involved in struggles and to activate some of those who have recently voted "on the left".
To bring together these larger forces, such an initiative must be open, not top-down, and have a clear set of requirements as a starting point for a discussion about a program.
While it is extremely unlikely that such an alliance will win the next elections, its objective must be to use the electoral campaign to popularize its demands, encourage mobilizations and participation so that it can strengthen itself and gain a foothold in Parliament, which can then be used as a platform to mobilize both popular opposition and support for socialist ideas.
These would be steps towards building a party and movement that can break away from the rotten and corrupt capitalist system and replace it with a socialist society that can end the need and make corruption a thing of the past. pass.
Financial appeal
The coronavirus crisis has exposed the class character of society in many ways. This clearly shows to many that it is the working class that makes society run, not the CEOs of big companies.
The results of austerity have been shown graphically as utilities struggle to cope with the crisis.
The material of the Socialist Party is more vital than ever, so we can continue to bring back workers who are fighting for better health and safety measures, against layoffs, for adequate workforce etc.
We must be prepared for the stormy events to come and the need to arm the labor movements with a socialist program – one that puts the health and needs of mankind above the profits of the few.
Inevitably, during the crisis, we were not able to sell the socialist and raise funds as we normally would.
We therefore urge all our viewers to donate to our Fight Fund.
---
In The Socialist from October 20, 2021:
---
News

Struggle for a socialist recovery

Conservatives to blame for general practitioner crisis

The carnage of container delays argues in favor of socialist planning

Socialist nationalization is not a bailout for the bosses
---
Workplace News

Unite trade union policy conference

University workers vote for strike

Unite and fight for 30,000 permanent DWP jobs

Gwent valleys strikes Stagecoach bus drivers for a fair wage

Reinstate Gary Evans! Llanelli postal workers strike

AGA Napo 2021: the Union on a war footing

Scunthorpe strikes to pay
---
People's budgets

Popular budgets – a socialist response to cruel cuts

Brighton workers' bin victory in sight

Fight to defend homeless services

Ealing People's Budget – we can resist the cuts

Northampton People's Budget – cuts and privatization a failed strategy

Fighting the cuts in the ballot box in Liverpool
---
Fall of apartheid

The fall of apartheid in South Africa
---
Climate change

COP26: unions must fight for a socialist transition to renewables

Save the planet from the capitalist climate catastrophe
---
International

Austria: Chancellor Kurz resigns amid corruption allegations
---
Obituaries

Obituary – Tony Davison: "I work for Militant, but Laing's pays my salary"
---
Campaigns

"Are you the socialist taxi driver?"

Housing crisis: Conservatives and Labor are not on our side

Liverpool Arms Fair: Hundreds of Protesters Defy Police 'Dispersal Zone'

Hackney Children's Centers – more cuts to education are devastating

Biggest protest yet to save Stratford Circus

Doncaster: Vigil condemns violence against women
---
Readers' reviews

I am unemployed: for me, the vacancy crisis is a lie

TV Review: Squid Game
---
Homepage
|
Le Socialiste October 20, 2021 |
Join the Socialist Party
Subscribe
| Make a donation
| audio | PDF | Ebook
---