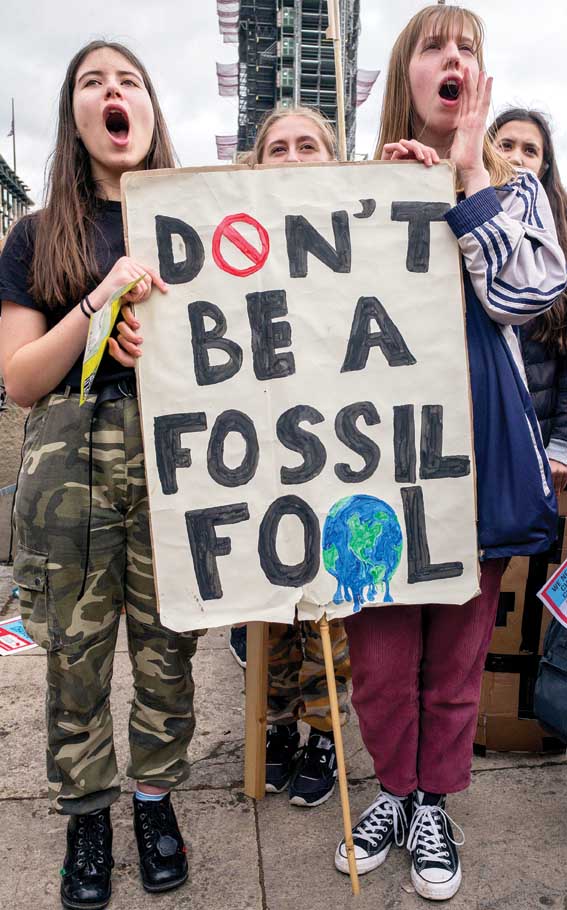 Capitalism sees a profitable opportunity to increase fossil fuel production
Tom Baldwin, National Committee of the Socialist Party
As the horror of the war in Ukraine dominates the headlines, the latest report by the United Nations (UN) Intergovernmental Panel on Climate Change (IPCC) has received little attention. media coverage. But dealing with rapid and destructive climate change has lost none of its urgency.
The IPCC report continues the trend of worrying scientific predictions about global warming and the increased incidence of destructive extreme weather events for ecosystems and human populations. UN Secretary-General António Guterres has said that when it comes to climate action, "delay means death".
The war in Ukraine has direct implications for meeting this challenge. Yet instead of using the war-related issues of fuel security and soaring energy prices to quickly shift to green renewables, capitalist politicians of all shades are trying to increase production. of fossil fuels outside of Russia.
Boris Johnson, for example, pushed back against public outcry over the Saudi regime's latest human rights abuses during his recent visit there to plead with the dictatorship to increase oil production.
Russian exports
Russia is a major exporter of fossil fuels. It is the second largest gas producer in the world and the third largest oil producer. In 2020, it represented 17% and 12% of world production respectively. Almost half of Russian exports are fossil fuels. The war drove up fuel prices and made the energy market more volatile.
In response to the invasion, many governments decided to restrict trade with Russia.
The United States, the world's largest producer of oil and natural gas, has stopped importing Russian fossil fuels, which represent only a small fraction (3%) of total US consumption. Similarly, the UK derives most of its gas supplies from North Sea fields and imports less than 1% directly from Russia.
In continental Europe, however, it is a different story, with 35% of the gas supplied by Russia. Germany has temporarily suspended the opening of the "Nord Stream 2" gas pipeline from Russia. However, with two-thirds of its gas coming from Russia, Germany has not imposed punitive sanctions on Russian imports of fossil fuels.
Despite their declared concern for Ukrainian citizens and their assertion that sanctions are an effective means of protecting them, capitalist governments in Europe clearly prioritize the energy supply of their economies and therefore the protection of corporate profits. .
Concerns about prices and the security of energy sources are proving a more pressing incentive for many governments to try to move away from Russian fossil fuels than environmental concerns ever have. But this pivot away from Russia does not mean a clear move towards clean energy.
Robert Habeck, vice-chancellor of the German Green Party and minister for the economy and climate, justified his party's reversal on ending the use of coal for energy production as "a short-term economic expedient ".
Big oil fan club
In the UK, the Net Zero Scrutiny Group (NZSG) of 20 Conservative MPs was formed last year. This pro-fossil fuel group includes Steve Baker, former chairman of the European hardcore-Brexit research group (ERG), and former cabinet minister and GB News presenter Esther McVey.
The NZSG is calling on the government to rethink its pledge to achieve net zero carbon emissions by 2050 by scrapping 'green levies'. They tried to pretend it was necessary to prevent people from being made worse by rising fuel prices.
Needless to say, he is not in favor of nationalizing energy companies to ensure this. Their parliamentary voting results also do not suggest genuine concern for the standard of living of working-class people.
The NZSG is now using the war in Ukraine to advocate for increased domestic fossil fuel production. Steve Baker took advantage of the dispute to call for the ban on toxic "fracking" to be overturned.
He implied that those opposed to fracking were complicit in allowing Putin to start the invasion, saying: "Everyone who allowed our shale gas to stay in the ground under a fake excuse should lower their heads in shame", and called on the Prime Minister to "go and get gas with all the vigor of a national war effort".
This movement is not limited to the right wing of the conservatives. Chancellor Rishi Sunak has pushed for extraction at six new oil and gas fields in the North Sea, with the green light to be given this year.
The conflict in Ukraine means that fossil fuel companies can now ramp up production with buzzwords like "energy security" and "independence".
In a profit-driven capitalist society, rising fuel prices make it a more attractive investment proposition for these companies. Thus, the oil giant Shell which, two weeks after the COP26 on the environment last November, when oil was worth less than 70 dollars a barrel, announced that it was withdrawing from the Cambo field off the Shetland Islands, is now reversing its decision as the price of oil surges above $140 a barrel. !
However, the dependence on Russian fossil fuels is also a clear argument in favor of renewable and clean energy as an alternative. Solar and wind power sources are stable regardless of geopolitical tensions and conflicts.
However, Russia is also a key producer of many metals and other materials needed to produce and store this energy. The rise in the prices of these raw materials makes investment in the production of green energy less attractive for private companies.
This is another example of why tackling climate change needs to be a global effort and why major global energy corporations need to be nationalized as part of a democratic plan for sustainable zero-carbon production.
Military
Another consequence of this war is the willingness of Western governments to dramatically increase military spending.
Such expenditures already represent a colossal drain on society's resources. Global military spending is estimated at nearly $2 trillion a year, more than even the highest predictions of the cost of halting climate change by 2050.
Building military arsenals is also incredibly polluting. Research from Brown University found that the US military was "the largest institutional producer of greenhouse gases in the world", with a larger carbon footprint than entire countries like Portugal.
The destruction of war itself also has an enormous environmental cost. The climatic implications can be added to the long list of horrors that war brings.
Research from the right-wing think tank Institute for Economic Affairs has shown that 75% of under-40s in Britain see capitalism as responsible for climate change.
They are right. The unbridled and unforeseen race of capitalism towards profit is a threat to life on earth.
Competition between the ruling classes of different nation states is a constant obstacle to the fight against climate change. War, the most brutal expression of this competition, aggravates the risk of climate chaos in many ways.
A socialist society, based on a democratic planned economy and international unity and cooperation of the working class, can eliminate both.