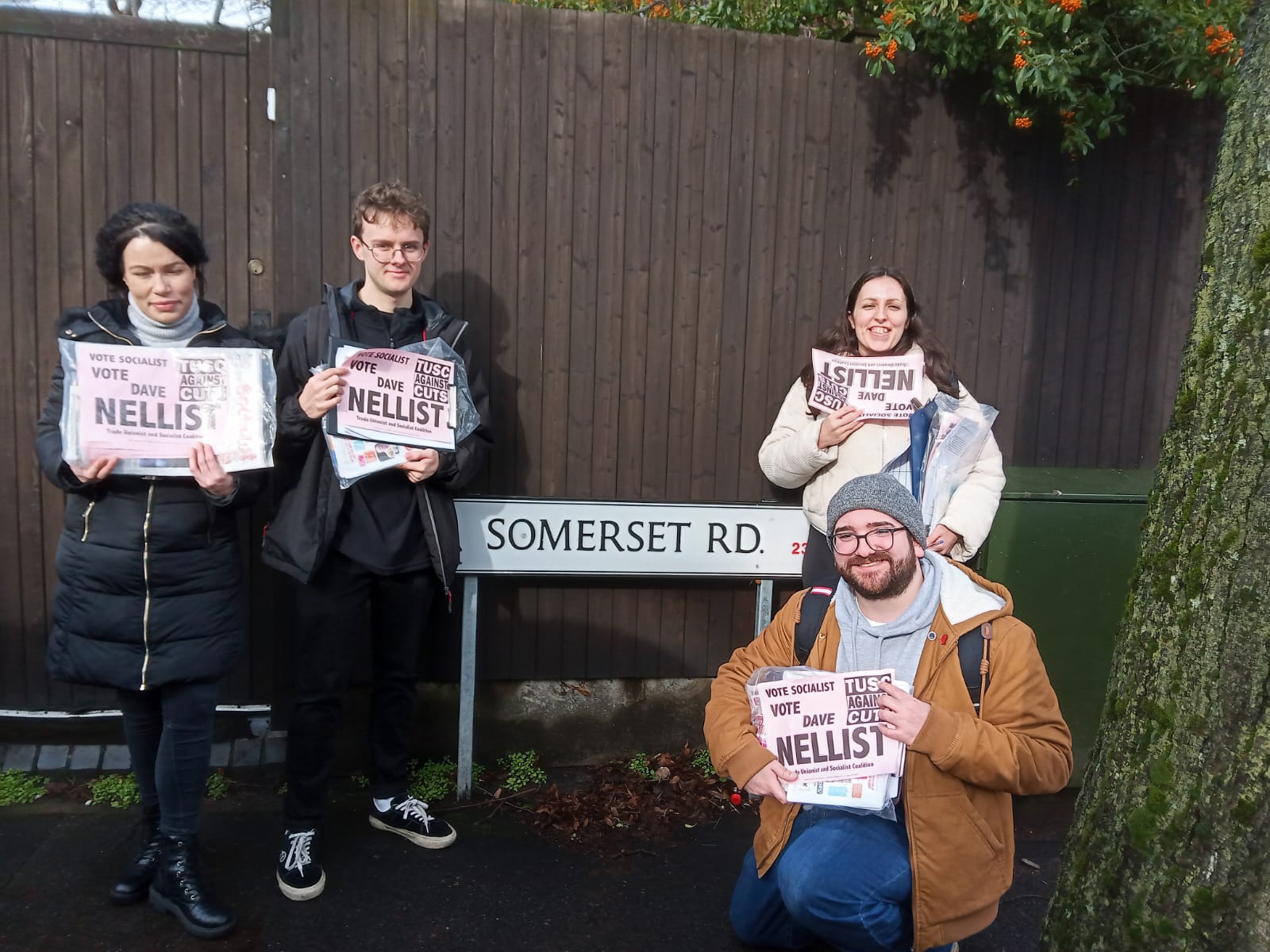 Campaigning in the Birmingham Erdington by-election
Campaigning in Erdington (Click to enlarge: opens in a new window)
Joe Foster, Erdington resident and Birmingham North Socialist Party
A worker we met told us: "These deputies who have two houses while some cannot have one, it's a shame". They are now distributing leaflets with us for Trade Unionist and Socialist Coalition (TUSC) candidate Dave Nellist. Every Birmingham Erdington election campaign we get positive responses.
The riding has the eighth-lowest voter turnout in the country; this is confirmed by those who say they do not vote. But people are happy to see a party that offers a real protest alternative.
A woman who answered the door said, "Give me some of these leaflets to hand out at work, that's what we all said, we need a new party." Another remarked: "My father is a socialist, but the same can no longer be said of Labour".
Volunteers
All of Stockland Green has been canvassed and towed so far – plus forays elsewhere, that's a quarter of the constituency. Socialist Party members moved alongside Resist supporters including former Labor MP Chris Williamson, leading union activists – RMT, FBU, NEU, PCS, Usdaw – and volunteers from near and far .
As well as outnumbering Labor and Conservative canvassing teams on the pitch, we also outnumber them on social media. Our Facebook and Twitter accounts attracted thousands of followers in the first week of the campaign, and hundreds of people participate in the daily updates, showing the huge appetite for the pro-worker policies we offer. . A young worker who saw TUSC on Twitter also helped the campaign and has now joined the Socialist Party.
A council tenant said: 'Council would not make any repairs because they suspected the kitchen fittings had been fitted by myself. I have the same problem for my repairs!
One woman we met is next to a multi-occupancy house for supported tenants where the police are constantly called. The city councilor did not provide any solution. The woman was not unsympathetic to the tenants, but angry at the £900+ given to landlords for supposedly providing support.
Pay and houses
In the face of these potential divisions between long-term residents and those trapped in precarious and unsanitary housing, we highlight the need to fight for the construction of affordable and high-quality social housing so that everyone has a place to call home. decent.
In a relatively more affluent area, a woman with a partner worked two jobs. At first his anger was directed at 'those on benefit' but we have countered this with our policies of a £15 an hour minimum wage and raising wages at least in line with the 'inflation.
As well as campaigning on the issues facing Erdington workers here and now, the TUSC stands ready to provide an agenda to build a new workers' party to make these demands a reality. Finally, our message is delivered.
Campaign with us at Erdington nellistforerdington.com/join