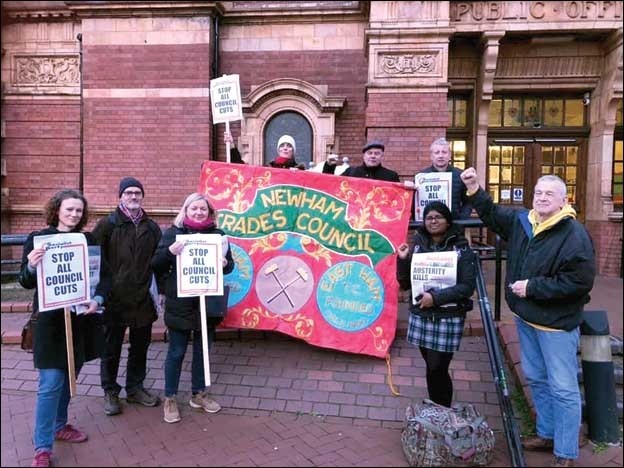 Building a political alternative to the cuts by the Conservatives and Labor
Link to this page: https://www.socialistparty.org.uk/issue/1158/33402
From The Socialist newspaper, December 1, 2021
Demonstration in front of Newham town hall against another series of draconian cuts by the Labor Council (Click to enlarge)
Newham is cut resistant
Newham Resists has agreed to campaign for cut cuts, needs a budget to show there is an alternative to the labor council that conveys Tory austerity. Newham Resists is a new coalition.
40 people came to the November 27 meeting from campaigns across the borough, including Friends of Queens Market, Stop the Silvertown Tunnel and Save Durning Hall. There were anti-Sphere activists in Stratford, activists against parking fees and activists for disability rights.
The Newham Socialist Labor – suspended Labor Party members in East Ham and West Ham – and the Green Party were also in attendance.
27,000 people are on the waiting list for housing in Newham. The borough has the largest number of people staying temporarily in London – 7,000 are children. The council's only "solution" is 1,000 new social housing units by 2022.
Poverty
Newham's child poverty levels exceed 50%, but services to young people have been cut, including the closure of a vital arts center, Stratford Circus. Council voted for an additional £ 24.9million and a 4.99% municipal tax increase in its 2021-2022 budget.
Newham has experienced a huge funding gap, so this budget would be just the start. We have to build the campaign to get the necessary funding from the central government.
At the Newham Resists meeting, Socialist Party members raised the need for a no-cut electoral challenge in May. Steve Hedley, deputy general secretary of the RMT transport union, said: "We have been defeated time and time again in this borough because we did not challenge… we have to think about pitting people against these people." Newham Resists has agreed to continue discussing whether to support this strategy.
Ferdy Lyon
Save our services in Surrey
Save Our Services in Surrey has called for anti-cut applications. On November 22, we had our first face-to-face meeting in about two years.
We received a message of solidarity from the Union des Sapeurs-Pompiers (FBU). Particularly good was the good participation of activists from the public sector union Unison. A reporter from the local newspaper was also present.
We approved the decision to hold a 'People's Assembly' in Surrey next summer with the aim of developing a local people's budget.
This would be a needs budget, based on contributions from unions and community groups. It will be an anti-austerity, anti-cuts and anti-privatization budget.
We will use the People's Budget as a manifesto to encourage trade unionists and community activists to consider running for local elections.
Surrey County Unison has already passed a motion agreeing to circulate all of its 5,000 members asking for volunteers to come forward. As a first step, Save Our Services will hold a planning meeting in January to get the ball rolling.
Paul Couchman
Financial appeal
The coronavirus crisis has exposed the class character of society in many ways. This clearly shows to many that it is the working class that makes society run, not the CEOs of big companies.
The results of austerity have been shown graphically as utilities struggle to cope with the crisis.
The material of the Socialist Party is more vital than ever, so we can continue to bring back workers who are fighting for better health and safety measures, against layoffs, for adequate workforce etc.
We must be prepared for the stormy events to come and the need to arm the labor movements with a socialist program – one that puts the health and needs of mankind before the profits of the few.
Inevitably, during the crisis, we were not able to sell the socialist and raise funds as we normally would.
We therefore urge all our viewers to donate to our Fight Fund.
---
In Le Socialiste for December 1, 2021:
---
New

Critical NHS

Covid-19: A new variant emerges but the same old capitalist disease

27 dead in the tragedy of migrants from the Channel

Bulb bailed out, nationalize energy to solve the price crisis

Khan threatens further London transport cuts

The "insufficient and faulty" startup program

Conservatives strengthen repressive laws
---
COP26

After COP26: what next for the climate movement?
---
International

Argentina's elections see increasing polarization
---
Wales

Wales: Labor-Plaid Cymru agreement – jam tomorrow, maybe
---
Rural life

Behind the rural idyll – the problems of everyday life
---
Workplace News

NHS workers – vote yes for action to get a decent pay raise

Staff and students unite against attacks by university bosses

UCU Higher Education Litigation

Education unions campaign against academization in Leicester

RMT strike against the suppression of night metro operators

South Yorkshire Stagecoach drivers strike over meager 1% pay offer

Nottingham and Mansfield unions rally against cuts and for better wages

Oaks Park school strike ends over forced concessions
---
Campaigns

Massive East London non-payment wins housing victory

Walking to stop violence against women

Housing activists protest against CEO's champagnes

Building a political alternative to the cuts by the Conservatives and Labor

Stop funding cuts for the Uni arts

Plymouth: hundreds attend vigil for Bobbi-Anne McLeod

Socialism 2021: How did we meet our campaign fundraising target

Ending fuel poverty
---
Readers' reviews

TV Review: Valley of Tears
---
Home
|
The Socialist December 1, 2021 |
Join the Socialist Party
Subscribe
| Make a donation
| audio | PDF | Ebook
---