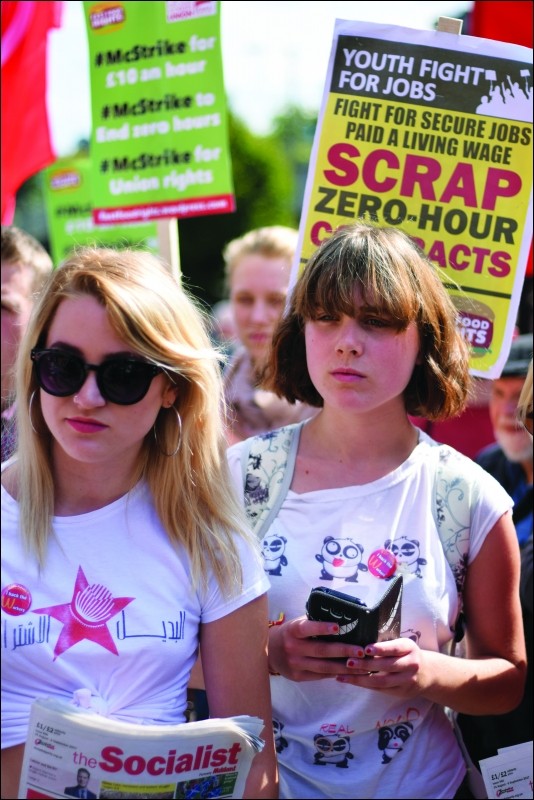 100,000 more zero-hour contracts in just one year
[ad_1]
Link to this page: https://www.socialistparty.org.uk/issue/993/27298
From The Socialist newspaper, May 2, 2018
Strike to win a secure job!
Eliminate zero hour contracts! photo Mary Finch (Click to enlarge)
Liat Norris, Secretary, Usdaw North West Marks & Spencer Branch (as an individual)
The number of zero hour contracts in Britain has increased by 100,000 in just one year.
There are now 1.8 million zero hour contracts, as the latest Labor Force Survey from the Office for National Statistics shows. With many others on short-term contracts of four to twelve hours, it's clear that bosses are continuing their road to precarious work.
The bosses tell us that the workers appreciate the flexibility offered by these contracts. The reality is that this is flexibility only for the bosses.
When the average work week for someone with a zero hour contract is 26 hours, it is clear that workers are taken for a turn; denied the fundamental rights for which the labor movement fights.
Last year, the Conservative-commissioned Taylor Review of Labor Practices made some minimal suggestions to improve the lives of hourless workers. This includes a higher minimum wage for non-contractual hours and the right to request a contract reflecting the hours actually worked.
But even these small demands seem too much for the bosses, so they met a stony silence from the conservatives.
At its recent annual conference, the Usdaw retail union voted unanimously to campaign for the abolition of all zero hour contracts and to replace them with 16-hour minimum contracts, except when workers demand less. It would be a step towards the reversal of growing underemployment and precarious work.
However, these requests cannot be just words. We cannot expect to simply ask the bosses and their politicians nicely and hope that they will give in.
Workers need determined action from the whole trade union movement to win these fundamental demands. The example set by the McDonald's strikers should inspire all workers in industries plagued with short, zero-hour contracts to demand action against them.
We must build a bold movement that campaigns for at least £ 10 an hour as a minimum wage with no exemptions; which campaigns against all precarious work practices, to guarantee decent and well-paid jobs for all.
Financial appeal
The coronavirus crisis has exposed the class character of society in many ways. This clearly shows to many that it is the working class that makes society run, not the CEOs of big companies.
The results of austerity have been shown graphically as utilities struggle to cope with the crisis.
The material of the Socialist Party is more vital than ever, so we can continue to report workers fighting for better health and safety measures, against layoffs, for adequate staffing levels etc.
We must be prepared for the stormy events to come and the need to arm the labor movements with a socialist program – a program that puts the health and needs of mankind before the profits of the few.
Inevitably, during the crisis, we were not able to sell the socialist and raise funds as we normally would.
We therefore urge all our viewers to donate to our Fight Fund.
---
In The Socialist of May 2, 2018:
---
What we think

Windrush: Rudd resigns. May and the Conservatives must go
---
Socialist Party News and Analysis

Young people trapped in private rental

Reject mega-supermarket merger: nationalize to save jobs

100,000 more zero-hour contracts in just one year

Windrush: Whitehall demo puts Tories and Blairites to shame

The fury of trade unionists after the expulsion of anti-racist activist Marc Wadsworth

Lib Dems Supported Benefits Sanctions To Earn 5p Carry Bag Fee
---
200 years of Karl Marx

200 years of Karl Marx: Marxist ideas more relevant than ever
---
France '68

May 1968: police attacks on students spark mass revolt
---
Socialist Party workplace news

May Day McStrike: "A symbol for all workers"

Hull University workers and students protest layoff plan

RMT members reject calls for Labor affiliation during debate in London

Union of radiologists discusses coordinated action

Usdaw Conference 2018
---
Socialist Party reports and campaigns

Stop Trump! Build for walkouts and mass protests on July 13!

Building fund appeal crushes £ 150,000, keep going!

Salford Nursery activists fight outside Parliament

Parents and activists protest cuts to disabled travel in Leeds

Obituary: Roy Corke 1945-2018

Leicestershire NHS Campaign Launch
---
Local elections 2018

TUSC is causing a stir in Haringey

Groundswell of support for TUSC in Huddersfield

TUSC opposes gentrification and logging in Waltham Forest
---
International Socialist News and Analysis

Spain: "We don't want to be brave, we want to be free!

Catalonia: thousands in the streets

USA: Defending Socialist Councilor Kshama Sawant

Malta: insult from right-wing Labor leader on May 1
---
Opinion

The Socialist Inbox
---
Home
|
The Socialist May 2, 2018 |
Join the Socialist Party
Subscribe
| Make a donation
| audio | PDF | Ebook
---
[ad_2]